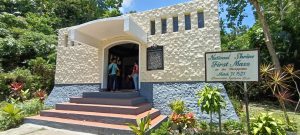 LIMASAWA, Southern Leyte – The local government unit of this island municipality and the Diocese of Maasin marked the 502nd First Easter Sunday Mass in Asia on March 31 this year in a simple rites.
The first Easter Sunday mass that happened on this island on March 31, 1521 that paved the way for the coming of Christianity in the country.
The 502nd First Easter Mass celebration started with the procession of Sr. Santo Niño de Cebu from Maasin port to Limasawa port in Barangay Magallanes.
This was followed by a mass celebrated by Bishop Precioso Cantillas attended by about 2,500 lay ministers, pilgrims, priests, nuns, youth, government officials, and residents of the island town.
"We must remember this every year. I am thankful for your sacrifice of coming here to thank the Lord for this blessing that He gives to us, of the life that He blessed us," Bishop Cantillas said.
He added that this historical event should not only be remembered by residents of Limasawa and of Eastern Visayas but by all Filipinos.
During the program, Mayor Melchor Petracorta expressed his gratitude to the people who continue supporting the local government in the yearly celebration of the First Easter Mass.
He also expressed his gratitude to the people and organizations that help the municipality in their continuing recovery stage from the devastation of super typhoon 'Odette' which hit the town last December 2021.
Tourism Secretary Cristina Garcia-Fresco, whose message was read by Rodel Balierbare of the regional tourism office, she commended the Diocese of Maasin, the local government of Limasawa, and the provincial government of Leyte for keeping the memories of history, religiosity, and heritage fresh in the minds of the young to continually be etched in the consciousness of the people.
She added that Limasawa is not just a place of religious and historical importance, but also a stunning natural wonder.
"With its pristine beaches, crystal-clear waters, and lush forests, Limasawa holds a significant place in our nation's story and I believe it has a lot to offer in tourism," Garcia-Fresco said.
"More than its physical and historical attributes, Limasawa Island's culture and traditions are also worth exploring, from its delicious cuisine to its colorful festivals. This place holds enormous economic potential to the island and its people if we could only learn how to innovate and properly utilize its natural attributes coupled with a certain amount of sustainable tourism entrepreneurship. This effort can create job opportunities, generate income, and improve the standard of living for the local community when done right," she added.
Also present during the simple program were Governor Damian Mercado, Vice Gov. Rosa Emilia Mercado,Rep. Luz Mercado(1st district), Philippine Coast Guard Eastern Visayas chief Commodore Romeo Pulido Jr., Philippine National Police Regional Director B/Gen Rommel Francis Marbil, Marina Regional Director Eusebia Cadlum-Boco, and Commission on Higher Education Regional Director Maximo Aljibe.
The celebration was highlighted by the festival competition with the continents from the villages of Triana and Cabulihan bagged the first place winning P80,000, villages of Magallanes and Lugsongan in 2nd place with a cash prize of P70,000,and the villages of San Agustin and San Bernardo in 3rd place with a P60,000) cash prize.
(ROEL T. AMAZONA)