TACLOBAN CITY – The Bureau of Fisheries and Aquatic Resources (BFAR) has turned over a P39 million worth fishing vessel to the members of the Northern Samar Pacific Towns Fishermen's Cooperative (NSPTFC).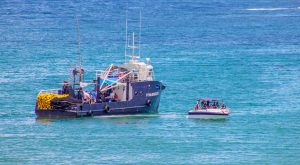 The turnover, held last March 29 in Mapanas town, was graced by Mayors Ronn Michael Tejano of Mapanas, Florencio Batula of Palapag, and Hector Ong of Laoang; Vice Mayor Clarita Gomba of Gamay and BFAR 8 Regional Director Dr. Hannibal Chavez.
Said vessel was given through the "Capacitating Municipal Fisherfolk Program" of BFAR which aims to capacitate fishermen through the acquisition and allocation of bigger and better-equipped fishing boats for them to fish efficiently and contribute significantly not only to the region but to the country's annual tuna production.
Fishermen from these areas are having difficulties in catching more tuna due to their lack of fishing equipment.
NSPTFC members are residents of the Pacific towns of Mapanas, Palapag, Lapinig, Laoang, and Gamay which are within the tuna conservation management zone (TCMZ) which is rich in tuna species like tambakol/ bariles, Eastern little tuna or bonito, frigate tuna or tulingan, skipjack (gulyasan) and yellowfin tuna or 'tambakol/bariles.
Felipe Saulon, who is the chairman of the NSPTFC, said that they are happy to receive the boat and vowed to make it not just useful but ensure the success of the program itself.
Northern Samar has almost 1,000 tuna fishers who mostly rely on traditional fishing methods when catching tuna within the Pacific Ocean, according to the data of BFAR-8.
Through this program, the bureau foresees at least a 5.4% or 180-200 MT increase in tuna production in Northern Samar being provided with the state-of-the-art steel-hulled purse fishing vessel which can store at most 5,000 kilograms of fish catch.
In 2022, the province contributed 13% of Eastern Visayas' total fisheries production and recorded the second-highest yield of tuna production in the region.
Mayor Tejano expressed his confidence in the project saying it will open a new and promising opportunity in the towns covered and boost the tuna industry in the process.
BFAR-8 Regional Director Chavez, in his message, said that the agency fully supports the fishermen.
"(And we) believe in the ability and determination of our fishermen here, especially the Northern Samar Pacific Towns Fishermen's Cooperative who have actively joined and continue to join our capacity-building initiatives to be ready for a new, bright, hopeful, and improved future not only themselves but also the tuna industry of Eastern Visayas," he said.
The BFAR and the municipal governments of Mapanas, Palapag, Lapinig, Laoang, and Gamay made a pact to support the NSPTFC in their future fishing operations through capacity-building initiatives, operation and management mentorship, overall programmatic functions, periodic monitoring and evaluation and other measures necessary for the effective, sustainable and efficient implementation of this program initially launched in Eastern Visayas.
The NSPTFC is set to conduct its first fishing activity within this month beyond their municipal waters where units of fish aggregating device (FAD) from the BFAR have been previously installed. (ROEL T. AMAZONA)