The incident happened in 2019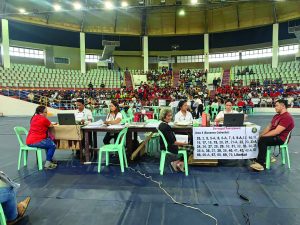 TACLOBAN CITY-The Office of Provincial Prosecutor in Leyte has recommended that a murder charge be filed against Mayor Remedio Veloso of San Isidro, Leyte, and his co-respondents in relation to a killing incident that took place in 2019.
In a four-page resolution signed by Provincial Prosecutor Ma. Arlene Huñamayor-Cordovez promulgated on August 18, it said that there is sufficient evidence to file a murder complaint against Mayor Veloso.
Also included in the charge sheet were his brother, Emmanuel, Cayetano Dagandan, Manuelito Sidaya, and John and Peter Does.
The decision effectively invalidated its earlier decision issued on June 15 dismissing the complaint for insufficiency of evidence.
This decision was questioned by the Criminal Investigation and Detection Group (CIDG) which filed the complaint as represented by Capt. Liberato Yorpo and Cpl. Mike Yahwehll Palma as it filed a motion for reconsideration.
Cordovez said that when she earlier dismissed the case, she only relied on the records, evidences, even footages, and previous resolutions of their office of similar complaints.
"(But) by giving focus on respondent's evidences, this Office inadvertently passed over and overlooked the strength of the testimonies and the evidence presented by complainant and their witnesses giving rise to the dismissal of the complaint for insufficiency of evidence," she said.
Cordovez said that with the filing of the motion for reconsideration, she was able to 'thoroughly go over' the entire records submitted by the complainants and their witnesses.
"Indeed, it is clear that the allegations in the present complaint supported by the testimonies of witnesses, together with all the pieces of evidence attached to the complaint, sufficiently established the elements of murder," the provincial prosecutor concluded.
She added that Mayor Veloso and his co-accused, in their counter-affidavit, simply denied their participation in the commission of the crime and just focused instead on trying to discredit the reliability of the testimonies and the evidence submitted by complainants and their witnesses.
"Instead of offering solid evidence of their non-involvement in the commission of the crime, they centered on the alleged credulity of the testimonies of the witnesses and denied any close relationships with them which would have made them privy to confidential matters," Cordovez said.
"Wherefore, foregoing premises considered, the instant motion for reconsideration is hereby granted. Accordingly, the resolution dated June 15,2023, is hereto set aside and an information for murder against the respondents be filed before the Regional Trial Court of Calubian, Leyte," she said.
The provincial prosecutor also denied the respondents for bail.
The case stemmed from the killing of Levi Mabini on May 19, 2019 in Barangay Capinhanan, San Isidro town.
Mabini was the municipal officer of San Isidro at that time during the administration of then mayor Susan Ang whom Mayor Veloso defeated by a single vote during the 2019 polls.
Veloso could not be reached for his comment but has earlier denied any involvement in the case, saying it is politically motivated.
JOEY A. GABIETA