TUNGA, Leyte – To have a better transportation network that would make it easier for the local community to travel and transport goods, the Department of Public Works and Highways (DPWH) – Leyte Second District Engineering Office (L2DEO) have constructed a road in Barangay San Pedro this town.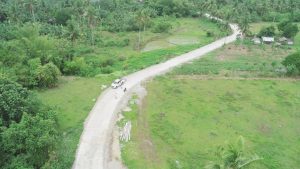 District Engineer Leo Edward Oppura said that the road construction project will reduce the perception of the local community of being isolated because their service road is gravel, which often times generates a lot of dust and scatters stones along the road, prompting their daily routines, especially during rainy seasons.
The project has a total cost of P4.9 million which includes the construction of a two-lane Portland Concrete Cement Pavement (PCCP) road with a 5-meter width and a 400-meter length, with provisions for stone masonry works.
DPWH continues to implement significant road projects that will connect rural communities to main thoroughfares to promote trade and commerce, leading to an increase in local economic activity.
(LIZBETH ANN A ABELLA)