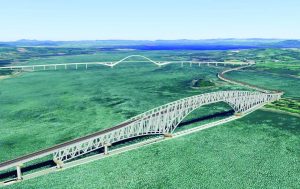 TACLOBAN CITY – The engineering experts from Japan International Cooperation Agency (JICA) conducted an on-site inspection on the proposed site for the construction of the second San Juanico Bridge, the regional office of the Department of Public Works and Highways (DWPH) said in a statement.
Last November 17, the group conducted an on-site visit.
The group started its first on bridge route options. They are again to conduct a similar on-site visit next year.
The proposed site for the construction of the second San Juanico Bridge is located in Tacloban and Babatngon, on the Leyte side, going to Santa Rita in Samar province.
The 2nd San Juanico Bridge Project aims to provide an alternative link between Samar and Leyte and decongest the iconic San Juanico Bridge which is now 50 years old.
Prior to the on-site visit, the DPWH officials led by Senior Undersecretary Emil Sadain had a meeting with JICA officials led by its Southeast Asia Division 5 Director Takehihiro Kido and his senior representative in the country, Fukui Keisuke, among others.
Critical issues that were discussed include the coverage of the feasibility study which will be conducted by the JICA Study Team in coordination with the DPWH route selection, number of lanes, and traffic operation options for the 2nd San Juanico Bridge, including the rehabilitation of the existing San Juanico Bridge, according to the DPWH statement.
They also discussed concerns on the environmental coverage of the study were also discussed, as well as the inclusion of the future operation and maintenance of the bridge.
It was also requested to the JICA during the meeting to consider the design that would complement future road projects in the Eastern Visayas Region, including the proposed rehabilitation of Daang Maharlika in Samar to be funded by the Asian Development Bank (ADB), and the Samar Pacific Coastal Road Phase II under the Economic Development Cooperation Fund (EDCF) of the Government of Korea.
"This project will bring so much development economically to my town, particularly at the village where it is going to be constructed because it means jobs for the people, and investors may put up businesses along that area," Babatngon Mayor Leny Lugnasin said when asked for her reaction over the proposed construction of the new bridge that will connect Leyte Island to Samar Island.
She added that this will also mean shorter travel time for travelers and motorists especially those who comes from or going to Ormoc or Samar province.
"In disaster response, this proposed new bridge as an additional route will contribute a lot because it will allow the efficient flow of transportation and relief distribution to areas affected by calamities and disaster," the town mayor added.
(ROEL T. AMAZONA)