In Northern Samar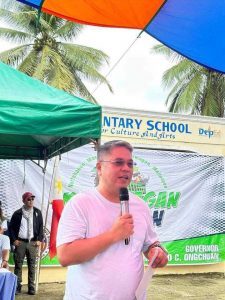 GAMAY, Northern Samar– Despite the intermittent weather being experienced by the province due to a low-pressure area, Governor Edwin Ongchuan led in conducting the 'Kauswagan Caravan' in this town on November 17.
The caravan brings various services and programs to the different remote barangays across the province.
During its caravan in this town, residents of the villages of Bangon, Bonifacio, Rizal, Luneta, Malidong, Bato, Guibawangan, Lonoy, GM Osias, and Cade-an, serving 1, 500 families in all.
Among the services offered during the whole-day caravan, a brainchild of Gov. Ongchuan, were medical and dental services; circumcision; haircut; and free legal services.
Different line agencies like the Department of Agrarian Reform, Land Transportation Office, and the Philippine National Police also offered their services to the villagers.
Free seedlings were also offered by the Provincial Agriculture Office.
The villagers also received vitamins, slippers, and even umbrellas during the caravan. Children also received foods supplied by famous food chains.
Baltazar Drio, village councilor of Bato, said that they were happy that the provincial government visited their area and benefitted from the services offered by the Kauswagan Caravan.
"We are overjoyed that this caravan reached our village. This is a big help for us residing in remote areas like having free medical services from our provincial government," he said.
He also said that it was the first time to see in person Gov. Ongchuan whom he described to be 'young.'
(PETER PAREDES)