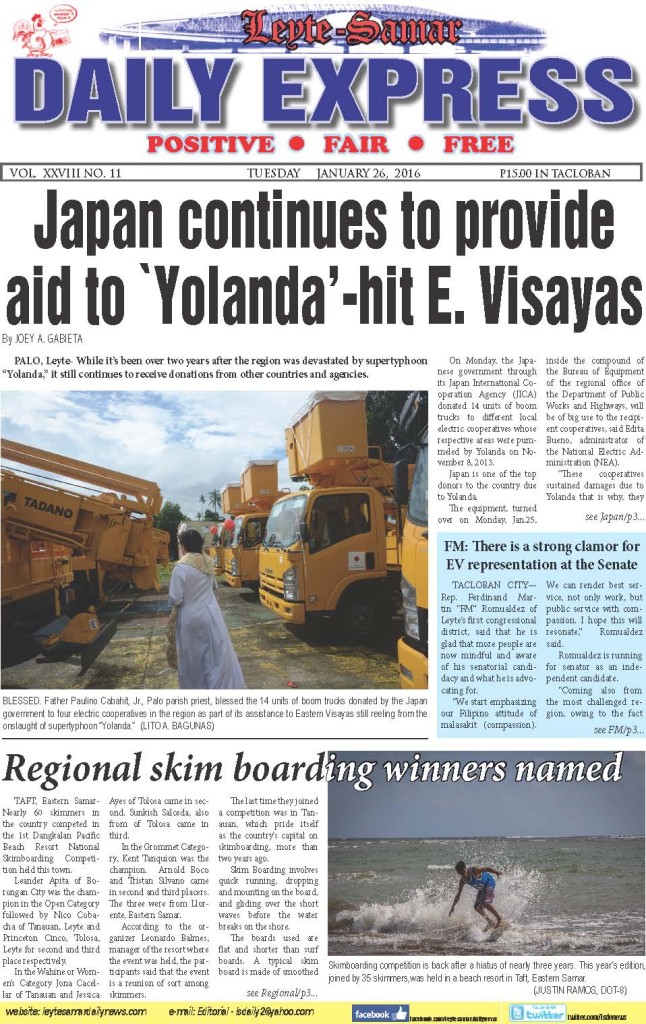 PALO, Leyte- While it's been over two years after the region was devastated by supertyphoon "Yolanda," it still continues to receive donations from other countries and agencies.
On Monday, the Japanese government through its Japan International Cooperation Agency (JICA) donated 14 units of boom trucks to different local electric cooperatives whose respective areas were pummeled by Yolanda on November 8, 2013.
Japan is one of the top donors to the country due to Yolanda.
The equipment, turned over on Monday, Jan.25, inside the compound of the Bureau of Equipment of the regional office of the Department of Public Works and Highways, will be of big use to the recipient cooperatives, said Edita Bueno, administrator of the National Electric Administration (NEA). "These cooperatives sustained damages due to Yolanda that is why, they were given these boom trucks after the assessment made by the JICA," Bueno said. A unit costs around P5 million.
Noriaki Niwa, chief representative of JICA to the Philippines, turned over the equipment to the respective power cooperatives. The recipient-cooperatives and the corresponding number of units of boom trucks they received were the Don Orestes Romualdez Electric Cooperative(Dorelco) which serves towns in Leyte's second district, four units; Eastern Samar Electric Cooperative(Esamelco), covering the entire Eastern Samar province, four units; Samar Electric Cooperative (Samelco)II, which covers towns hit by Yolanda like Basey and Marabut, two units and the Leyte II Electric Cooperative(Leyeco II), which covers the towns of Palo and Babatngon and Tacloban City, considered the worst-hit area due to Yolanda, with four units.
Engr.Fernan Tan, acting general manager of the Leyeco II, said that the power cooperative is grateful to JICA for the donation of the four unit boom trucks. "These equipment will be of big help to us, to our linemen in particular as this will help hasten their work," Tan said. He added that these boom trucks, in case of a disaster, could help hasten any possible restoration work. One of the features of the boom truck is that they have a digging machine which could speed up the work, he added. At present, Leyeco II has five boom trucks which were already "worn out" after these were used during Yolanda's restoration and recently, used in Northern Samar after the said province was hit by typhoon "Nona" last December 14, 2015. The said equipment could last for about 15 years. By: Joey Gabieta