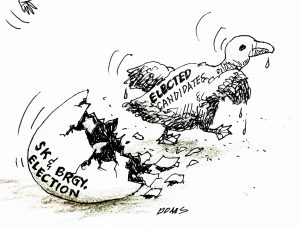 The recently concluded Philippine Sangguniang Kabataan (SK) and barangay elections have finally come to an end, marking a significant moment in the country's democratic process. These elections serve as a platform for the youth to exercise their right to vote and participate in local governance, and the outcome holds implications for the nation's future.
The SK elections allow young individuals to have a voice in their respective barangays, the smallest administrative division in the Philippines. By participating in the electoral process, the youth can actively contribute to decision-making that directly impacts their communities. This inclusion of younger generations at the grassroots level fosters a sense of responsibility and empowerment, allowing them to shape their future.
Moreover, the SK elections also serve as a training ground for future leaders and politicians. The youth participating in these elections gain valuable experience in campaign management, public speaking, and constituency engagement. Through these early encounters with politics, aspiring young leaders can develop their skills and principles, preparing themselves for future roles in local and national governance. This signifies the importance of grooming a new generation of leaders who can address the unique challenges the country faces.
The successful completion of the SK and barangay elections signifies a significant step towards strengthening democracy in the Philippines. These elections demonstrate the nation's commitment to providing a level playing field for all citizens to exercise their right to vote and choose their leaders. The generally peaceful and orderly conduct of the elections highlights the development of transparent electoral processes. A well-functioning democratic system is not only vital for national stability but also for attracting investments and promoting economic growth.
We hope that the SK and barangay elections have left a lasting impact on the country's democratic framework. The significance of these elections is crucial for comprehending the broader implications they hold for the nation. The nurturing of future leaders and the strengthening of democracy are all essential components that contribute to the nation's progress. Congratulations to all the winners who aspired to various positions.