Biliran province as host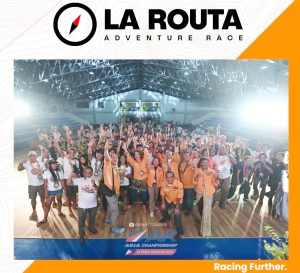 TACLOBAN CITY – Fourteen teams from six countries across three continents are in the island province of Biliran for the La Routa Eastern Visayas Adventure Race 2023.
La Routa is the Asian qualifying round for the Adventure World Series with the championship to be held in El Salvador next year.
This is the first time the region and the country will host this event.
Aside from the Philippines, the competing teams are from Malaysia, Japan, India, New Zealand, and Poland.
Originally, the 16 teams are to compete in the adventure race but two teams from the country had to withdraw due to unforeseen eventualities.
"Biliran is a tapestry of natural wonders waiting to be explored, with this untamed beauty providing a perfect background for an event of this magnitude," Governor Gerard Roger Espina said during the welcome program for the athletes on Sunday (Nov.19).
The four-day competition will start on Tuesday (Nov. 21).
Espina lauded the Department of Tourism, organizers, and volunteers of the event for their dedication, showcasing Biliran to the international stage.
The island province was selected because of its high safety feature being an island. It does not have an insurgency problem and is easy to find roads or highways because of the presence of circumferential roads and cross-country roads.
In her message, DOT Regional Director Karina Rosa Tiopes encourages the participants especially those who are not from the region to enjoy the competition and the warm hospitality of Biliranons whom they will meet throughout the four-day competition.
"Biliran is a small province but there is so much to appreciate not just the place but especially the people, "Tiopes said.
Heide Muller, CEO of the Adventure Racing Word Series, for her part, was thankful to the national and local government for allowing the sporting event to be held in the country.
"This will not be possible without the government supporting you," she said.
She also made a reminder to participants to be mindful throughout the competition and during their stay in the province.
"Please remember if you are up there be respectful to the land, to the people. This is an honor and a gift to come to the beautiful country they open for us to be in nature. So please make us proud as an adventure racer," Muller said.
The La Routa Eastern Visayas Adventure Race 2023 is a group competition composed of four members who will tackle the terrain of the Biliran province through different disciplines of running, hiking, swimming, paddling, mountain biking, rappelling, and land navigation, and special section.
The competition will last for about 74 to 96 hours covering a total length of 300 to 350 kilometers from the starting point to the finish line.
Each team is provided with a GPS tracker to monitor their location throughout the race.
Teams have the option to sleep at night during the entire four-day race.
Each team is composed of four members who are mixed-gender, depending on how many male or female members are included in the team.
(ROEL T. AMAZONA)