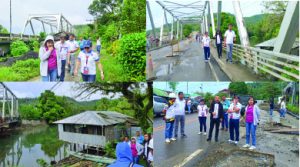 CATARMAN, Northern Samar– The Department of Public Works and Highways (DPWH) Region 8 Director Edgar B. Tabacon inspected the Palanit Bridge in San Isidro Northern Samar to personally assess the status and condition of the said structure.
The inspection was joined by Assistant Regional Director Ma. Margarita C. Junia, District Engineer Mario D. Villena, Asst. District Engineer Vivian G. Biaco, and District Construction Chief Engr. Vicente C. Galecio, Planning Chief Engr. Andy S. Ereño and other personnel from DPWH Regional office VIII.
Limit on access of motorists passing the Palanit Bridge has been imposed recently by the district office, after having noticed defects from the structure. Further assessment of DPWH R8 officials revealed the deterioration of the bridge steel girder (span 2), posing a safety risk to motorists and heavy vehicles in the area.
Director Tabacon assured that he will follow up at the Central office the district's requested P10-million Quick Response fund (QRF) for the strengthening of the bridge, while waiting for the construction of a 2-lane parallel bridge which is set to be constructed next year.
"The visit of RD Tabacon underscores the commitment of the regional office to proactively address the pressing concern for the benefit of the traveling public," District Engineer Mario Villena said.
DE Villena also stressed that minimizing inconvenience, preventing traffic disruptions, averting potential bridge collapse, and prompt action is deemed necessary.
Meantime, motorists are strongly advised to utilize the Catarman-Calbayog Road as an alternate route to ensure everyone's safety.
The district office still has deployed maintenance personnel to man the structure to ensure that only light vehicles (weighing not more than 3 tons) pass the bridge for the safety of motorist.
(ANALIZA A. PABIA/PR)