Now on its 9th year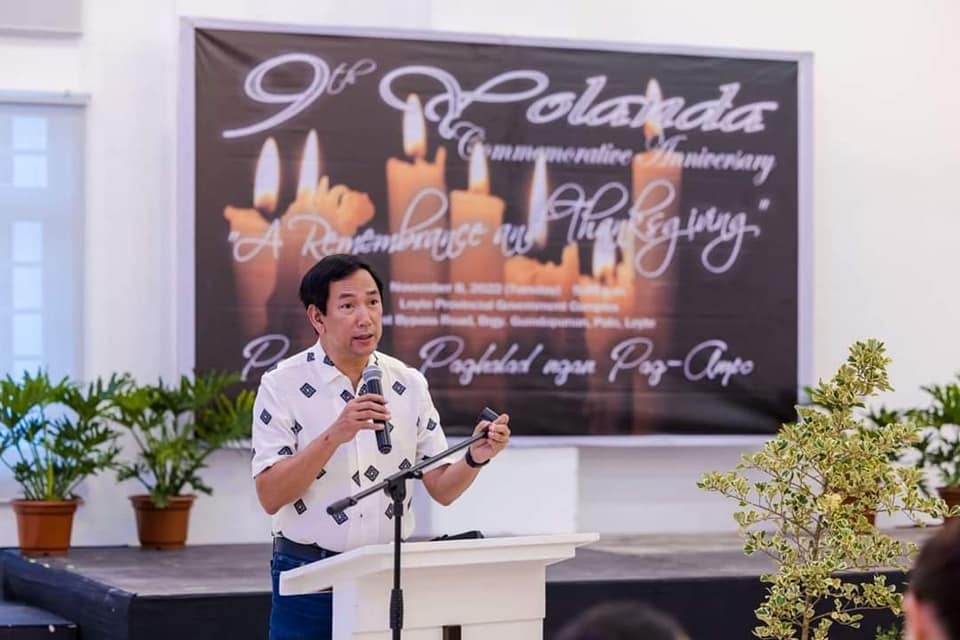 PALO, Leyte– Governor Carlos Jericho 'Icot" Petilla led in commemorating the 9th year anniversary of Super Typhoon 'Yolanda' that pummeled the province on Tuesday (Nov.8).
The governor and other provincial officials and employees offered prayers and lit candles for the seven employees of the provincial government who died due to Yolanda.
In his message, Petilla said that it is important to commemorate Yolanda every year for people to remember and be thankful that they survived the strongest typhoon in modern times.
"Yolanda was nine years ago. To some people, it's long forgotten tragedy. But for those who are here and who lost their loved ones, it would take forever," the governor said during the program held at the new provincial capitol complex, this town.
He added that the commemoration is also a way of thanking people, organizations and countries that sent help to Yolanda-affected areas for their fast recovery and rebuilding.
Petilla emphasized that the disaster taught the people and the government to be ready all the time to any disaster situation.
"We can always be ready but we cannot always prepare enough," he stressed.
The governor was joined by Vice Governor Leonardo "Sandy" Javier and his wife, Rep, Lolita Karen Javier of the 2nd district and board members Ronan Christian Reposar, Wilson Uy, Raissa Villasin, Maria Corazon Remandaban, and Kathryn "Chinggay" Veloso Kabigting, and provincial government employees.
In Tanauan, the commemoration started with wreath-laying ceremonies at the 'Surge of Hope' memorial where more than 300 bodies were buried, and at the mass grave at the town plaza where over 1,000 were buried.
The commemoration in Tanauan was headed by Mayor Gina Merilo with Philippine Information Agency Director General Mon Cualoping as the guest of honor.
In Palo town, the commemoration was highlighted with the episcopal coronation of the Our Lady of Hope of Palo led by Palo Archdiocese Archbishop John Du.
The Our Lady of Hope of Palo symbolizes the ray of hope that has been shed on the province of Leyte by the Virgin Mary and was blessed by Pope Francis during his papal visit to Tacloban and Palo on January 17, 2015.
(ROEL T. AMAZONA)