Part of the digitalization program of his administration
TACLOBAN CITY – The provincial government of Leyte headed by Governor Carlos Jericho 'Icot' Petilla is to launch on March 7 the "PriceEat Leyte" price monitoring mobile application program.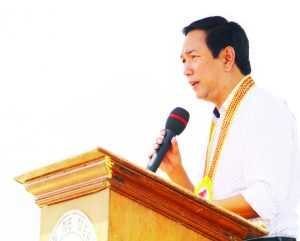 PriceEat is a mobile application that will provide an updated pricelist of agricultural commodities in the markets and stores in every locality of the province.
The online price monitoring, which is part of the digitalization program of Gov. Petilla, is seen to benefit consumers by giving them more options and choices where to purchase their supplies.
The implementation of the price monitoring system in the province is supported by Provincial Ordinance No. 2023-01 entitled "An ordinance establishing the Provincial Food Supply and Price Monitoring System of the Province of Leyte" authored by board member Carlo Loreto(5th district).
"This is not just for price monitoring because what the province want is to make it useful for all," Loreto said.
By checking the mobile application, Loreto said that consumers will now have an access to know which town or city has the best or cheaper price of agricultural commodities, giving them an option where to buy their needs.
Loreto said that, at the present, the application will only focus on agricultural products but may be expanded to other commodities.
(ROEL T. AMAZONA)