With number of World War II veterans declining fast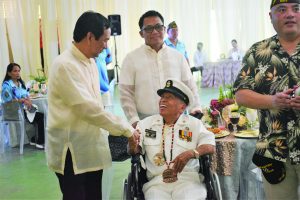 TACLOBAN CITY – The memories of Leyte Gulf Landings are slowly fading with the rapid deaths of World War II veterans, mainly due to old age.
This is why Leyte Governor Carlos Jericho Petilla once again urges the people of Leyte to pay their homage and always remember the stories of the Leyte Gulf Landings to keep the bravery and valor of the veterans, especially those who are still alive.
Based on the record of the Philippine Veteran Affairs Office (PVAO), there are only 19 living World War II veterans from the region.
A veteran from Paranas, Samar died a few days before October 20, the history-changing event that occurred on the shores of Leyte that happened 79 years ago which led to the liberation of the Philippines from the control of the Japanese forces.
Last year, there were 30 living World War II veterans in the region.
Unlike in the pre-pandemic commemoration of the Leyte Landings where there are World War II veterans who joined the celebration, this year none of the remaining living veterans were able to join the annual event at the McArthur National Memorial Park in Palo town.
Of the 19 remaining living veterans, the youngest is Eleoteria Cabacungan, 95, who is from Tanauan town, Leyte while the oldest is Gervacio Apostol, 102-year old from Burauen town, also in Leyte.
"The veterans and their stories are fading away, and we have to preserve their stories if only to remember what happened," Gov. Petilla said.
One way of preserving the stories of World War II heroes is through the establishment of a museum where visitors may listen and learn the stories of veterans and see some displayed artifacts of war, the Leyte governor said.
Petilla disclosed that they are planning to convert the old provincial capitol building in Tacloban City as the site of the proposed museum.
The building itself is a witness to history as it is where President Sergio Osmeňa declared Tacloban as the temporary seat of the Philippine government as General Douglas McArthur started liberating the country from the hands of Japanese soldiers in 1944.
To convert the old capitol building into a museum, Petilla said that they will need at least P300 million for the repair of the structure and aesthetic design.
Petilla said that they are looking for government agencies or institutions that they can partner with to fulfill this plan.
(ROEL T. AMAZONA)