Amid series of shooting incidents in the 3rd district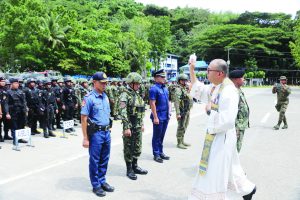 TACLOBAN CITY – Leyte Governor Carlos Jericho 'Icot' Petilla has expressed his alarm about the series of shooting incidents in the third district, some resulting in the deaths of the victims.
Petilla said that as part of the measures, he has instructed the police leadership in the province to focus on the third district relative to the conduct of the barangay and Sangguniang Kabataan (SK) this October 30.
The district is composed of the towns of Calubian, Leyte, San Isidro, Tabango, and Villaba.
Shooting incidents in the district have become frequent in the run-up to next week's barangay and SK elections.
On Monday (Oct.23), another shooting incident occurred in the district, particularly in Villaba town involving Aldwin Perez whose brother-in-law Raul Cosinillo, village chairman of Barangay Mataloto in Leyte town, was killed on May 10 of this year by still unknown assailants.
Perez' sister, Mercedes, survived the gun attack.
The police could not determine yet if his killing was politically related. The victim was said to be the president of a farmers' association in their village of Tag-abaca, Leyte town.
Prior to this, last Saturday (Oct.21) an SK council candidate was killed while another was hurt in a shooting incident in Brgy. Mataloto, also in Leyte town.
"We're given special attention to the third district. In fact, half of our police force is monitoring and securing the district because of the violence reported from that area," Petilla said.
According to the governor, he will provide all needed assets to the police for them to better carry out their duties and end the violence there.
"We will do everything to prevent violence (in the third district)," Petilla said.
The district is composed of the towns of Calubian, Leyte, San Isidro, Tabango, and Villaba.
Only Villaba and Leyte are under the "area of concern" or yellow category by the Regional Joint Security Control Center which is chaired by the Commission on Election 8 with members of the Philippine National Police, Armed Forces of the Philippines, and the Philippine Coast Guard as members.
Yellow category are areas of concern where there has been a history of election-related incidents in the last elections, there is a possible employment of partisan armed groups, and the occurrence of politically motivated election-related violence.
ROEL T. AMAZONA