In Eastern Samar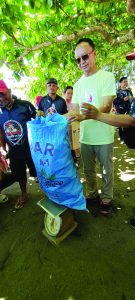 TACLOBAN CITY– A massive clean-up drive in coastal areas across Eastern Samar was held on Tuesday (May 9) with the aim to protect the province from the wrath of Mother Nature.
Governor Ben Evardone said that he hopes that cleaning the coastal areas from waste and garbage will become a 'way of life' among the people in the province which is often battered by typhoons.
"I don't think I have to overemphasize the importance of this activity. While we cannot feel the (immediate) effect of this activity but the message that we are putting across…that even in this part of the Philippines we are concerned with our environment and we are doing our share, modest as it is, to help protect, preserve, and ensure that the next generations will inherit a vibrant environment," he said during the launching of the program.
He said that he hopes the activity will 'galvanize and excites our people to protect our environment.'
"We hope and pray that this campaign will be sustained and become a way of life of our people," Evardone added.
He disclosed that similar cleanup will be done across the province every four months.
The Eastern Samar governor said that there is an urgent need to preserve marine lives and resources, otherwise scarcity of marine products like fish is most likely to happen.
The clean-up drive in coastal areas in Eastern Samar took place as the province marked the 'Month of the Ocean' with several divers collecting wastes from different bodies of water in Borongan City and Sulat town which mostly consist of plastics and even fish nets.
The event was also participated by environmentalist groups and the newly-crowned Miss Earth 2023 Yllana Marie Aduana and her court.
The beauty queen said that she was happy to participate in this environmental protection campaign, especially involving marine resources.
"As humans, it is our responsibility to promote biodiversity and protect all lives in it. Let us be pioneers of environmental amelioration because we can always do it. Let us protect Mother Earth the way she protects us," she said.
(JOEY A. GABIETA)