PALO, Leyte– Provincial officials of this province have expressed renewed optimism in its tourism industry following the "resounding success" of a two-day first tourism forum that gathered over 500 tourism stakeholders, industry experts, and government leaders from all over Leyte.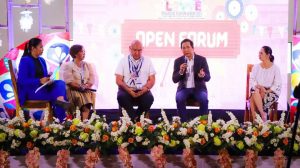 "It's a privilege in helping the province of Leyte in bringing together tourism stakeholders from both the government and the private sectors, tourism champions from all over Leyte that will strengthen the Leyte tourism industry," Frances Ann Petilla, provincial tourism office consultant and former mayor of this town, said during the March 7-8 event.
"As I give my humble assistance to the provincial tourism in developing tourism strategies, I believe that by working together, we can create a vibrant and sustainable tourism industry that will benefit everyone," she added.
Through its theme "Empowering Leyte tourism: A gathering of ideas, opportunities and solutions," tourism experts and stakeholders had the opportunity to talk about trends and technology in tourism that included empowering local stakeholders, capacity building and accreditation standards, and sustainable tourism.
Other topics were also focused on product development for rural destinations: community-based approach, connecting suppliers to tourists through technology, preliminary planning guide for tourism stakeholders and provincial plans on tourism accreditation.
"The only way you can succeed in having good tourism is when you know what the people are looking for," said Leyte Governor Jericho Petilla during the gathering at the Leyte Academic Center in Palo.
He also welcomed the discussion on the different strategies to attract more tourists to the province.
Aside from the governor, the keynote speakers and resource speakers during the event also included Department of Tourism (DOT) Undersecretary Ferdinand Jumapao, and tourism regional director, Karina Rosa Tiopes, among others.
Leyte's unique products were also displayed during the event for "potential business partnerships."
"About this month, three years ago, talks about coronavirus disease being a global health concern was becoming louder. Then on the 16 of March, a lockdown was imposed nationwide. This marked the start of over two years of travel restrictions to difficult years for the tourism industry in Eastern Visayas, in the country, and in the world. Today, the travel and tourism industry is almost back to normal," Tiopes recalled.
Provincial tourism officer Jescyn Kate Nierras-Ramos expressed confidence that the tourism forum "will be our first step in working as one in building networks and future projects and endeavors." (RONALD O. REYES)