PAGSANGHAN, Samar – Some P465,000 worth of assistance were formally turned over on Monday, August 7 this year by the Department of Agrarian Reform (DAR) Samar Provincial Office to an Agrarian Reform Beneficiaries Organization (ARBO) in this town.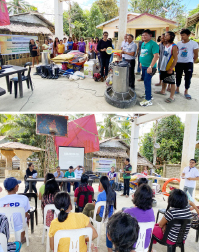 Program Beneficiaries Development Division (PBDD) chief, Thelma Alfaro, led in the turnover of common service facilities (CSFs), farm inputs, piglets, and feeds to the Calanyugan Farmers Association (CFA).
Alfaro disclosed that the assistance provided to CFA included six piglets, starter feeds, pellet feeds, vitamins, dewormer, cylindric automatic pig feeder, seeds, vermicast, seedling tray, pruning shears, watering can, rake, shovel, wheel barrow, farming boots, net mesh, white drum, water pump, suction hose for water pump, discharge hose for water pump, nylon twine, tire wire, knapsack sprayer, and grass cutter for the ARBO's livelihood activities.
She further disclosed that the above-mentioned CSFs, farm inputs, piglets, and feeds were funded under the Sustainable Livelihood Support to Disaster Affected Areas Project of the Climate Resilient Farm Productivity Support (CRFPS) Program.
In response, CFA Chairman Felipe Magbutay expressed gratitude, in behalf of the association, to DAR Officials for the assistance extended to them.
According to him, these will bring a positive impact to their organization.
Meanwhile, Alfaro stressed to the members of the CFA that Provincial Agrarian Reform Program Officer II (PARPO II) Alfonso Catorce and Magbutay will sign a trust agreement stipulating both parties' responsibilities.
In the said document, according to Alfaro, the association is warned that if the farm machineries and equipment are not utilized and maintained in good condition within the next six months, DAR will pull them out and transfer to another ARBO.
But, if the farm machineries and equipment are used and well maintained, DAR will execute a Deed of Donation to CFA, Alfaro added.
On the same occasion, Alfaro, accompanied by Municipal Agrarian Reform Program Officer (MARPO) Julian Panoy, Development Facilitator (DF) Virgil Geradila and CRFPS point person Irene Lazarra conducted an ocular inspection to the CFA's communal vegetable garden and piggery.
(SARAH ALVAREZ/PR)