Gov. Ongchuan eyes more NPA surrenderers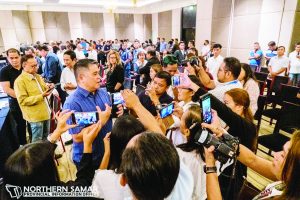 TACLOBAN CITY– At least 200 housing units are to be constructed for former rebels and their families in Northern Samar with its governor, Edwin Ongchuan, hopeful that this could help attract members of the New People's Army (NPA) to finally surrender to the government.
The housing community intended for reformed NPA members is located in Barangay Cablangan, about three kilometers away from the town proper of Mondragon.
Ongchuan said that the construction of the community, dubbed as 'Kauswagan (prosperity) Village' is expected to start early next year though some 34 former rebels and their families are now living in the community.
"There are 34 peace-builders (former rebels) who now live in the community but their houses are just plain wooden houses. We want them to live in concrete-made houses which will be realized soon under our program," the governor said during a media interview last week, Oct. 2.
Ongchuan was in Tacloban City to attend the Joint Regional Task Force to End Local Communist Armed Conflict(JRTF-ELCAC)graced by Interior Sec. Benhur Abalos, regional security personnel, and local officials.
According to the governor, the construction of the 200 single-detached units is expected to start by next year with each unit costing about P500,000.
Funding will come mainly from the National Housing Authority (NHA) with the seven-hectare lot of the housing unit donated by the Philippine Fiber Industry Development Authority (FIDA).
Members of the engineering battalion of the 8th Infantry Division will construct the units.
Ongchuan said that he is giving his full support and commitment to this Kauswagan Village as his way not only for the active rebels operating in the province to surrender but especially to make their lives better.
"We just want to show that the provincial government is doing something to help improve the lives of our peacebuilders and these houses will help attract those who are still in the movement," the Northern Samar governor said.
The Kauswagan Village will be provided with its own power and water connections, a chapel, and a school for elementary and secondary levels, Ongchuan said.
There will also be an area intended for farming, poultry raising, and piggery for the livelihood component of the project.
Ongchuan said that since the ELCAC implementation started in 2019, 159 NPA members operating in the province have surrendered to the government and were provided with assistance by the provincial government and other national agencies.
Northern Samar has been identified by Army officials in the region as the 'last bastion of insurgency' in Eastern Visayas with two remaining communist guerilla fronts operating.
ROEL T. AMAZONA /JOEY A. GABIETA