Aboard the Coral Adventurer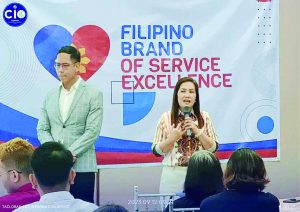 TACLOBAN CITY – The arrival of an international cruise ship will help attract more foreign tourists to come to the city.
Thus said city tourism officer Malou Tabao, referring to the November 3 visit of the Coral Adventurer, an international cruise ship with about 120 foreign guests on board.
The international guests, consisting mostly of Europeans, are to visit the Yolanda memorials, the old provincial capitol building, the Sto. Niño Shrine, and the iconic San Juanico Bridge.
They are also to visit the town of Palo, particularly the Metropolitan Cathedral and the McArthur Shrine National Park.
"Their visit will not only help the city government but all sectors in the tourism industry, like transport, hotels, and restaurants," Tabao said.
Thus she asked all residents of the city to welcome the foreign guests and make them feel safe while they are touring Tacloban.
"As what I always say, people are the best resources. We are the best tourist attraction. We are known to be resilient, friendly, and hospitable. Let us make our guests feel safe, welcome, and part of the community," Tabao said.
"If they have a good experience, there is a big chance that they will also tell their friends and relatives about their experience here. Let us work together, because the city government is not the only one to benefit it but everyone in the tourism industry and the community," she added.
Last month, the city tourism stakeholders were trained on the Filipino Brand of Service Excellence in preparation for the arrival of foreign guests.
Coral Adventurer is expected to arrive in the country after departing Japan on October 24. The cruise ship and its guests will be staying in the country for 16 days visiting some of the Philippines beautiful island destinations.
In the region, they are to visit Biri and Capul Island in Northern Samar; Maripipi and Sambawan Island in Biliran; Cuatro Islas and Kalanggaman in Leyte; and Padre Burgos town in Southern Leyte.
Tourism Regional Director Karina Rosa Tiopes said that the foreign guests are sure to have a memorable experience as each port call will be unique and different.
"The experience they have in Tacloban will be different from what they will experience in one of the islands in Cuatro Islas," Tiopes said.
"These cruise tourism guests are only small in numbers but they want to have the best experience by engaging with the community, find out our way of life, and appreciate our culture and heritage which for me is the best part of cruise tourism," she added.
(ROEL T. AMAZONA)