M/Gen. Ligayo: NPA ends a 'matter of time"
ALANGALANG, Leyte– Eastern Visayas top military officer, Major General Camilo Ligayo, said that he welcomed the appointment of Eduardo Año as the National Security Adviser to Pres. Ferdinand Marcos, Jr.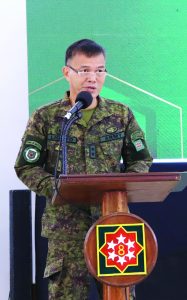 Ligayo, who was in this town on Thursday (Jan.19) to witness the declaration of support of more than 100 former sympathizers of the communist armed group, the New People's Army (NPA), said that he is confident that the insurgency problem of the country will finally come to its end.
"He is a very intelligent man. He is the right person for the position," the commanding general of the 8th Infantry Division, based in Catbalogan City, said.
"He is very familiar with his work being a former military man and he was also a former secretary of the Department of Interior and Local Government," Ligayo added.
Año replaced Clarita Carlos as NSA on Jan.14.
Ligayo said that he is confident that the insurgency problem in the region, in particular, will finally come to its end, more than 50 years since the armed group of the Communist Party of the Philippines waged its armed war with the government.
"The trend is irreversible. We see the fall of the communist terrorist group in the (region). It is just a matter of time," he said.
He particularly mentioned that the communist armed group is now 'leaderless' with the death of Jose Maria Sison on Dec.16 last year which could be considered as another factor for the weakening of the outlawed group.
Earlier Ligayo said that he sees the end of insurgency in the region within the first quarter of the year, adding that the armed group is now mostly active in Northern Samar where four of its five existing fronts are operating.
Meantime, Ligayo commended the anti-insurgency campaign being waged by the soldiers in Leyte, led by Col. Noel Vestuir, the commanding officer of the 802nd Infantry Brigade.
Vestuir, he said, is credited for the surrender of rebels and their sympathizers.
On Thursday, more than 100 sympathizers took their allegiance to the government as they denounced their former allies in a program.
Vestuir said that with the decision of these sympathizers to cut their ties with the communist group, they in effect lost their mass bases which they use not only to propagate their cause but also as their sources of finances and their other needs.
He disclosed that aside from the military operations, they are also conducting 'localized efforts' to end the insurgency problem in Leyte, in particular.
According to him, part of the effort is to convince the rebels to surrender and return to the folds of the law through their respective families.
Last year, six rebels returned to the folds of the government using this scheme, Vestuir said.
Among those who graced the ceremony were Alangalang Mayor Lovell Yu and Governor Carlos Jericho Petilla.
The governor vowed to construct roads to remote barangays and connect them to the urban centers to ensure that they will not become attractive to recruitment by the rebel group.
(JOEY A. GABIETA/ROEL T. AMAZONA)