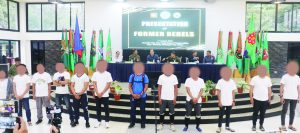 Despite thousands of rice fields affected by heavy flooding
TACLOBAN CITY– The Department of Agriculture (DA) said that despite of the massive flooding experienced by the region, the target palay output for this year remain to be achievable.
For the past weeks, heavy rains spawned by a low-pressure area hit the region damaging rice fields, among others.
Based on the data of DA, the flooding incidents have inundated 21,225 hectares of rice fields across the region affecting 20,764 farmers.
Its damage loss was estimated at P386.49 million.
Of the six provinces of the region, the three Samar provinces, Samar, Eastern Samar, and Northern Samar, suffered the most of the flooding incidents.
In terms of losses, Eastern Samar accounted 56.44 percent valued at P218.13 million followed by Samar at 25.90 percent valued at P100.11 million and Northern Samar at 8.47 percent with an equivalent value of P32.74 million.
Larry Sultan, regional technical director for operations of DA-8, said that the impact of the floodings was not that significant for their palay production for this year to be affected.
"The three Samar provinces are not really rice-producing provinces. Their contribution to the region's palay production is not that big unlike Leyte which is considered as the rice granary of the region," he said.
Accordingly, the three Samar provinces contribute around 34 percent of the entire palay production of the region.
Meanwhile, Leyte, considered the region's top palay producing province, sustained P33.05 million damaged palay; Southern Leyte, P78 million; and Biliran, P1.81 million.
For this year, DA target 992,331 metric tons of palay production.
Sultan said that they have already provided needed assistance to the affected palay farmers like seeds.
JOEY A. GABIETA