Economy and tourism to be affected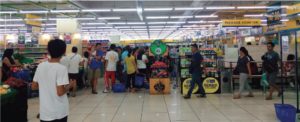 By: Joey A. Gabieta/Lizbeth Ann A. Abella
TACLOBAN CITY- The move to place the entire National Capital Region(NCR)under 'community quarantine' could also be felt in the provinces.
The move would not only limit the movements of the people who want to travel to NCR but would impact the economy and tourism sectors of other regions of the country like Eastern Visayas.
For hotel owner Neil Benedict Montejo, this could affect not only the flow of traffic but even tourists.
In fact, they have already received calls from their prospective guests cancelling their reservations due to the threat of the coronavirus disease 2019(COVID-19).
"Just yesterday, we received three cancellation of bookings which included a group of Japanese," Montejo whose family owns Hotel Alejandro and Hotel Lorenza.
"We were hoping that they will just sought for rebooking. But these were all for cancellation of their bookings," he added.
Rhoel Ladrera, who is into transportation business, said that the move would surely have an impact to the industry.
"We just hope the national government can assist and help small medium businesses about their loans with the banks like during Yolanda where there was a moratorium and reprieve of amortization for few months," Ladrera said.
On Thursday, Pres. Rodrigo Duterte went into national television wherein he announced that he would impose a community quarantine covering the entire National Capital Region.
As an immediate effect to this order is the cancellation of flights and land and sea travels to Metro Manila for a month to ensure that the virus would not further spread.
The country, as of Friday, has 52 confirmed COVID-19 cases with five fatalities.
For Montejo and Ladrera said that the one-month period of lockdown is quite a long period for them to take.
"On a business standpoint, it's a long period. The scare alone makes people afraid to travel. But it is needed so we have no choice but to have to support it," Ladrera said.
Both said that they understand the move of the government to contain any possible spread of the virus.
An Waray party-list Rep. Florencio Noel said that the food supply of Eastern Visayas would be affected with the lockdown.
For one, the region's vegetable supply would be affected as 70 percent of the region's vegetable needs came from Luzon which will pass through Metro Manila before reaching to the region.
He, however, expressed this move of the national government as this intend to stop possible spread of the dreaded COVID-19 virus.
"We have to follow the order of the government and the expert," Noel said.
City Mayor Alfred Romualdez, meantime, said that for now, he does not see any reason to lockdown Tacloban, the regional capital of Eastern Visayas, from the outside saying the situation does not warrant.
He, however, assured the public that his administration is doing everything to ensure that the virus would not be spread in the city which has more than 200,000 people but whose daytime population reaches up to 1 million.
Among these measures imposed were the cancellation of classes in all levels, both in the public and private schools, that started on March 13 and to end on March 20, and imposing a four times a week of work.
At the Daniel Z. Romualdez Airport, based in Tacloban City which has more than 10 daily flights of Manila and Cebu, passengers are ask to fill a form detailing their flights and their destination for easy contact tracing if ever they would develop the symptoms of COVID-19.