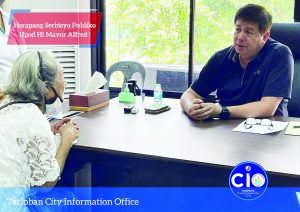 TACLOBAN CITY– Eastern Visayas disaster risk reduction management officers have welcomed the recent statement of President Ferdinand 'Bongbong' Marcos, Jr. to place the National Disaster Risk Reduction Management Council(NDRRMC) under his office.
Rei Josiah Echano, speaking on behalf of the region's disaster management officers, said that aside from easy and fast response during a disaster situation, placing the NDRRMC under the Office of the President could also result in addressing several issues hounding them, disaster responders.
"We concur with the decision of the President that his office should be more accountable of the hazard's impact and its response efforts by placing NDRRMC directly under OP," Echano, who is the provincial disaster risk reduction management officer of Northern Samar, said.
"We just look forward that this zeal of the President to take over the responsibility would trickle down to our grassroots disaster response operators in the form of material upliftment of their welfare and benefits," he added.
The region's provincial, city, and municipal disaster risk reduction management officers have submitted a position paper to Pres. Marcos during his Tacloban visit last Nov.9, coinciding with the 9th year anniversary of Super Typhoon 'Yolanda,' seeking for his intervention on matters affecting them.
Based on their petition, the region's disaster responders have sought, among others, of benefits and remunerations considering of the hazards they risk during a disaster situation.
"Our organizations for DRRM workers led by the Office of the Civil Defense in the region justly encourage the national government to take a look at our sad plight in the LGUs and institutionalize their interventions so that it becomes the basis of our LGUs in their actions for resilience building in their jurisdictions," the petition said.
"We hope that the President heeds this call given the geomorphology and social vulnerabilities of our people in the region in particular and in the country in general," it added.
Echano said that "90 percent" of the DRMM officer in the region is a 'one-man team office,' with most of them either contractual or job order workers.
Thus, he said, they ask that they must be regularized and be given longevity pay, hazard fee, and other appropriate benefits given the nature of their work.
During his visit, the President said that he is mulling the possibility of placing the NDRRMC directly under his office, saying this could result in better response during a disaster.
The NDRRMC is the highest body for the country's disaster risk reduction and management and was established by virtue of Republic Act 10121 in 2010.
It is composed of various government, non-government, civil sector, and private sector organizations.
The council is currently chaired by Defense Undersecretary Jose Faustino Jr. (JOEY A. GABIETA)