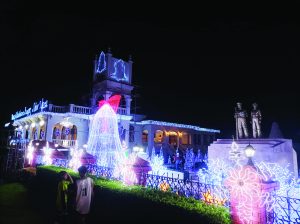 Army says province 'last bastion' of EV's insurgency
TACLOBAN CITY– About six alleged members of the New People's Army (NPA), the armed wing of the communist group of the Philippines, were killed in an hour-long armed battle in Las Navas, Northern Samar on early morning Wednesday (Nov. 23).
One of the casualties was a woman.
This latest skirmish between the government troops and the communist armed group came on the heels of a November 18 encounter which resulted in the death of two rebels while three others were captured in San Isidro town, also in Northern Samar.
The Wednesday encounter took place in Barangay Imelda at about 5:30 am with government troopers belonging to the 20th Infantry Battalion of the 803rd Infantry Brigade engaging about 60 rebels, Capt. Valben Almirante, the battalion civil military operations officer said in a phone interview.
It was learned that the government troopers were in the area in a hot pursuit operation against a group of rebels who earlier attacked government troopers in Jipapad, Eastern Samar last October 7 which resulted in the death of two soldiers and injured an i8-year old girl.
The government troops sought an air support aside from continuing their ground attack against the rebels.
The one-hour firefight resulted in the death of six rebels, one of whom was identified to be a woman, Almirante said.
The cadavers of the slain rebels were brought to the town center for possible identification of their families or relatives, he added.
No casualty was reported on the government side as soldiers, as soldiers scoured the area which was said to be uninhabited.
Government troopers also recovered from the rebels one (1) 7.62mm Cal 60 Machine Gun; 11 5.56mm M16 rifles; one 5.56mm M4 rifle; one AK47 rifle; and one M14 rifle.
Earlier, Eastern Visayas' top military officer, Major Gen. Camilo Ligayo, disclosed that of the five guerilla communist fronts, four are in Northern Samar.
"This is a big victory in our fight against the communist terrorist group where the regional communist group (is operating). The entire Northern Samar is their last bastion," Almirante.
JOEY A. GABIETA/EUGENE M. ENANO