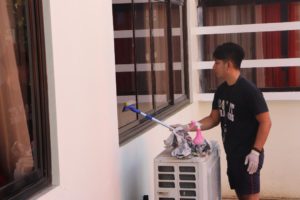 BORONGAN CITY- The Department of Public Works and Highways-Eastern Samar District Engineering Office (DPWH-ESDEO) implements preventive measures against the dreadful Coronavirus Disease (COVID-19) that breakouts around the world.
During March 14, 2020, ESDEO employees commenced in cleaning and disinfecting their respective working areas headed by the ESDEO District Maintenance Engineer Esteban P. Casillano in order to prevent the entry of the said virus in the office and this will constantly be done every Saturday.
District Engineer (DE) Manolo A. Rojas instructed to disseminate advisory photos from the Department of Health (DOH) as well as to provide hand sanitizers and soaps to every units, sections, lobbies and comfort rooms in the office.
"Due to the ease of spreading this virus, we need to heighten precautionary steps and take away any possibility of being a conduit to it," DE Rojas said.
Moreover, ESDEO employees immediately applied practices such as continuous sanitation of hands, observing social distancing policy, proper etiquette of using comfort rooms and self-quarantine for 14 days if they have travelled from places with a COVID-19 case.
DE Rojas added to reinforced continuous awareness about the essential proactive measures and practices to combat the spread of the virus and ensure the safety of the employees.
As of now, Philippines have already confirmed COVID-19 cases based on the official reports of the Department of Health (DOH) while Eastern Samar have zero cases, Governor Ben Evardone released an executive order directing task forces to set up 24 hours checkpoints and cancellation of classes for all-levels until March 31, 2020.
Furthermore, DPWH Central Office recently transmitted to all district offices a memorandum discouraging the employees to travel locally and internationally and ESDEO will continue to cooperate along with the DOH, DPWH Central/Regional Office, Provincial and Local Governments. (LARA MIKAELA C. SUYOT/PIO STAFF/PR)