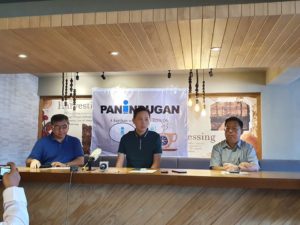 TACLOBAN CITY-The business group based here said that its members are now beginning to feel the pinch due to the coronavirus disease 2019(COVID-19) threat which resulted to drop of their sales.
But the 150-strong Philippine Chamber of Commerce and Industry (PCCI)-Tacloban, Leyte Inc. involving of at least 3,000 workers, are making sure that their workers would not lose their jobs in this time of crisis.
Eugene Tan, the group's president, admitted that if the COVID-19 induced crisis would continue to a longer period, this could result to retrenchment.
"This, we don't like to happen," he said during a press conference Wednesday.
Tan, who is into hotel and trading business, has confirmed that due to the drop of sales, there are members of the chamber which either adopted a shorten period of business time or shifting working days just to ensure their workers would continue their employment.
Lawyer Jerry Uy, who is into retail business, said that he adopted shifting of workers instead of resorting to retrenching them.
"And some of the chamber members have also gave a portion of their 13th month pay and leave credits," he said.
A store manager, who requested not to be named, said that starting this week, they have adopted a four-day work system to at least cushion the drop of their sales instead of retrenching their more than 300 workers, many of them are residents outside the city.
"We have noticed that for the past weeks now, the number of customers coming in have decreased which resulted to drop of our daily sales. And we felt this further this week after the President ordered for us Filipinos to stay at our homes," she said.
Tan said that they have been 'subsidizing' the salaries of their workers amidst the huge drop of their sales.
Based on their reports, drop of sales have reached as high as 60 percent as of this month, Uy said.
Oliver Cam, vice president for external affairs of the group, said that among the most affected industry brought by the COVID-19 scare is the hotel industry to include in the transportation sector.
He said that hotel occupancy rate in Leyte, for example, ranged from zero to just 10 percent.
"The months of January to March is considered to be the lean months in the hospitality industry but with the COVID-19 scare, this become the leanest season," Cam said.
The huge drop of the hotel occupancy rate was due to the stoppage of airport operation to this city from Manila. (JOEY A. GABIETA/LIZBETH ANN A. ABELLA)