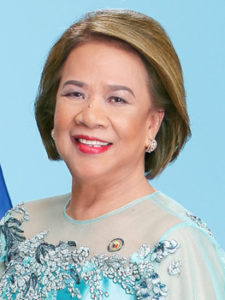 TACLOBAN CITY- Eastern Samar Rep. Maria Fe Abunda is now on a home quarantine.
Abunda, the lone congressional representative of the province, said that her self-quarantine for 14 days is in compliance to the directive for those coming from Metro Manila and other areas where there are confirmed cases of coronavirus disease 2019(COVID-19).
"We have to follow the order. But I feel okay," she said when asked how she feels.
Abunda said that she started her self-isolation in her residence in Borongan City since March 14, the day she arrived from Manila.
The lady solon, who is the eldest sister of television host Boy Abunda, said that though she stays most of the time in her room, there are times that she goes out to the sala using a face mask.
And when she is talking with her house helpers, she makes sure that she distances herself more than one meter, part of the social distancing mandated to avoid contacting the virus.
"The utensils that I use are separately placed from the others and are also placed in a heater as another precaution," Abunda said.
Her security escorts just stay outside the main house, she added.
According to her, she also has her body temperature taken which ranges from 29 Celsius degree up to 33 Celsius degree.
"While I am in self-isolation, I just preoccupy myself like sorting out my clothes which I will later on donate or I busy myself with paper works," she said.
"Of course, I am also busy eating foods here in my room," Abunda, laughing, added.
She also said that she continues her work through telephone calls on the various programs and projects she intends to do for her district.
Abunda is to return to Manila on May for the resumption of their regular session. (JOEY A. GABIETA) xxx