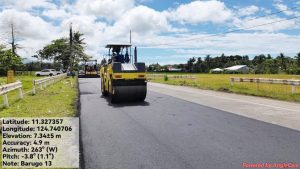 TACLOBAN CITY-The Department of Public Works and Highways (DPWH) Leyte Second District Engineering Office (L2DEO) is now working on the replacement of damaged concrete pavement and the application of an asphalt overlay project at the Bagahupi-Babatngon-Sta. Cruz- Barugo-Carigara Road.
The department, using its asset preservation program for preventive maintenance, has earmarked P17.51 million for this purpose which involved in the replacement of 1,632 lane kilometers of damaged pavements and the application of 7,092.97 square meters of asphalt overly with reflectorized thermoplastic markings.
District Engineer Leo Edward Oppura said that the preventive maintenance projects of the department aim to strengthen the existing pavement structure and improve pavement serviceability.
Roads are susceptible to damage when exposed to heavy loads, and the combined impacts of traffic loading and the environment will cause damage to the infrastructure, regardless of how well-designed and constructed it is. As a result, road maintenance is required to improve the road's surface capability.
The Bagahupi-Babatngon-Sta.Cruz-Barugo-Carigara Road section is classified as a tertiary road, measuring 4.608 kilometers and sharing boundaries with Leyte First DEO.
(LIZBETH ANN A. ABELLA)