The 2021 Pilot Community-Based Monitoring System (CBMS) data turnover ceremony marks a significant milestone for the city of Baybay, according to Minerva Eloisa P. Esquivias, Officer-in-Charge Deputy National Statistician.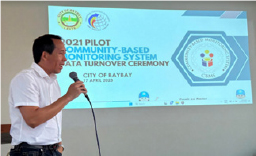 The ceremony was conducted on 17 April 2023 at the Conference Room, Baybay City Hall.
DNS Esquivias highlighted the fact that government programs and policies are matters that indispensably shape the life, status, and development of the people, making the availability of CBMS data key component towards holistic governance.
PSA Leyte Chief Statistical Specialist Sheryl Ann A.Jamisola presented the 2021 Pilot CBMS Data of Baybay City which included data on peace, food security, health, sanitation, education, and employment. She said that there are still more data that can be generated from the CBMS results.
Baybay City Mayor Jose Carlos L. Cari, in his acceptance message, said that he is a believer of data. He narrated that when he was still a Barangay Chairperson, he already adopted the posting of CBMS Data Board in their barangay.
Now, that CBMS data for Baybay City is in their hands, they will use these as benchmark data from where they can base their development programs that alleviate the lives of Baybayanons.
In behalf of City Administrator, Atty. Florante, Cayunda, Jr., Marissa M. Cano, the city information officer, presented the plans and programs that will utilize CBMS data. She emphasized the relevance of CBMS data in the preparation of various plans being formulated by the city.
Meanwhile, Atty. Eliezer P. Ambatali, Director of the Legal Service of PSA discussed Data Security as provided in the Data Privacy Act of 2012 (RA 10173). He emphasized that with the data in their hands comes the responsibility as vigilant stewards of data.
CBMS is an organized technology-based system of collecting, processing and validating necessary disaggregated data that may be used for local planning, program implementation, and impact monitoring while empowering communities to participate the process. It involves the generation of data at the local level which serves as basis in targeting households for government programs geared towards poverty alleviation and economic development.
PSA Regional Statistical Services Office VIII (RSSO8) Regional Director Wilma A. Perante officially closed the ceremony with much gratitude to the City of Baybay for its full support, dedication and hard work. She also expressed her hope that the CBMS results be cascaded to the barangay local government units (BLGUs), the foreground implementers of government programs and projects of the city. (PR)