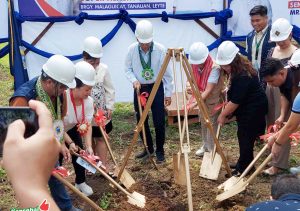 BORONGAN CITY-The District Engineers League of the Philippines (DELP) and the Rank and File Employees Association (RAFEA) of the Department of Public Works and Highways Eastern Samar District Engineering Office (DPWH ESDEO) jointly organized the "Gamit Pang-Eskwela Handog ay Saya" at Banuyo Elementary School in the inner village of Banuyo, Borongan City on September 19, 2023.
District Engineer Alvin A. Ignacio revealed that DELP conducts a yearly gift-giving event with the DPWH ESDEO employees' union in coordination with the Department of Education (DepEd).
"We showed our gratitude to employees in the district office for their participation and contribution to this gift-giving activity. And also to DELP for giving us a chance to be a source of blessings and inspiration to the students," said DE Ignacio during the program activity.
Also, the district engineer requested the parents and students to take good care of the supplies provided by the team to ensure longevity and usefulness.
The event reached out to 111 pupils from kindergarten to grade six, who received school supplies such as bags, notebooks, papers, pencils, crayons, tumblers, raincoats, and umbrellas.
The President of RAFEA, Inigo Sugalan Jr., announced that their office had prepared 125 packs of school supplies. They distributed 111 to students and kept 14 sets for school heads to distribute to future enrollees to encourage out-of-school children to enroll. At the same time, the school head disclosed that the enrollment period is still ongoing.
Aside from receiving educational materials, the students at Banuyo Elementary School were also delighted with Jollibee meals and entertained by the dancing Jollibee Mascot.
The school head, Glenda Abella, expressed her gratitude to the DPWH ESDEO for choosing their students as beneficiaries for the Gift Giving Activity.
"Diri in hikakalimtan hin nga mga kabataan nga aanhi yana. Ira in hihimuon nga inspirasyon hit ira paglalakbay hit ira eskwela [This event will not be forgotten by these students that are present today. This will serve as their inspiration in their journey in education]," said Abella.
The school head is pleased with the umbrellas and raincoats given to the students as they will be helpful during the rainy season.
The event had several attendees, including teachers and staff, parents, barangay officials, Section Chiefs and Unit Heads of DPWH ESDEO, and RAFEA Officers.
The DPWH ESDEO is not only dedicated to enhancing the quality of infrastructure projects for the benefit of Filipinos but also actively engaged in social responsibility. With this initiative, they aim to inspire and encourage individuals and organizations to support the education system and make a difference in the lives of the youth, particularly those in the marginalized sector.(PR)