Sports tourism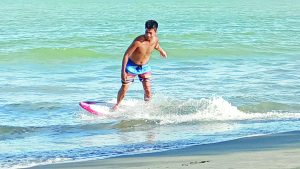 TACLOBAN CITY –Department of Tourism Regional Director Karina Rosa Tiopes said that they strongly support local government units that host sports competitions.
The DOT is pushing MICE-E or meetings, incentives, conferences, exhibitions, and events to further attract tourists to visit the region.
Included in this campaign is the holding of national sports competitions.
Recently, national surfing and skimboarding competitions were held in Borongan City and Tanauan, Leyte, respectively, drawing competitors and tourists alike.
"Sports competition is an event, and we at the DOT gets excited when there is an event but it should not only last for a week or so instead we need to make it sustainable," Tiopes said.
"That is why we are encouraging organizers to have other income-generating activities not only for local entrepreneurs but even the athletes," she added.
These income-generating activities may include sports clinics wherein athletes like surfers and skimboarders may teach individuals who wanted to learn surfing and skimboarding.
"Aside from hosting organizing provincial / regional / national / sports events, LGUs should also try to find ways to integrate a particular sports to tourism," Tiopes added.
Tiopes cited Cebu province as the best template wherein they integrate "arnis" also called "eskrima" into their heritage and wellness tourism programs.
The tourism official added that for LGUs that are planning to organize events, they may ask assistance from their office so that they can assist them in product development and promotions.
"We will craft a guidelines on how they can avail of other event logistics support," she added.
The tourism official added that next week they will be having a meeting with tourism stakeholders to prepare the initial calendar of major events for 2023 in the region which includes the national convention and general assembly of APO fraternity, the JCI 75th anniversary and national convention, Lion's Club conference, and an international adventure race competition. (ROEL T. AMAZONA)