LGUs suspend classes due to bad weather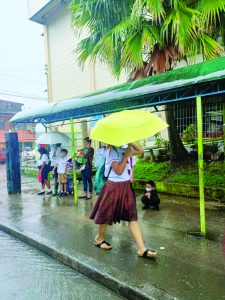 TACLOBAN CITY– Classes were suspended in this city on Monday (Jan. 9) mid-afternoon due to a heavy downpour spawned by a trough of a low pressure area (LPA).
The downpour resulted in flooding in the city reaching up to gutter level, including its main streets and even school premises.
Both public and private schools in the city suspended their classes with parents and guardians of the students seen scampering to collect their students.
Work both in the private and private offices and establishments, however, were not suspended in the city.
In San Vicente town, Northern Samar, classes were also suspended by Mayor Edgar Catarongan, Jr. due to the bad weather.
In Silago, Southern Leyte, Mayor Lemuel Honor also suspended classes across the town due to the non-stop rains effective in the afternoon.
Local governments across the region are also monitoring their respective areas prone to landslides and flooding.
Pagasa has released an advisory of possible landslides and flooding due to the continuous rains brought by the LPA through.
Since last month, Eastern Visayas has been experiencing inclement weather due to LPA or shear line which result in flooding and landslide incidents.
The regional Office of Civil Defense (OCD) has reported that the shear line, for one, has affected 24,217 families or 86,510 persons, mostly from Eastern Samar province.
It also confirmed of five deaths and nine still missing, all were fishermen who ventures to the seas despite of the prevailing bad weather.
JOEY A. GABIETA