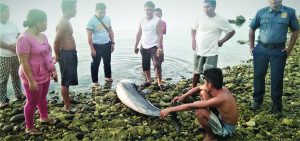 ORMOC CITY– A dolphin was reported to have died after it entangled in a fish net in Barangay San Roque, Tomas Oppus, Southern Leyte on Monday (May 15) at about 6:30 am.
The mammal, weighing 80 kilograms, was said to have been trapped inside a fishing net of Christian Oliveros,29 who said tried his best to free it but failed to do so which resulted in its death.
Town police chief Capt. Arthur Atiwag II said that they were informed on the incident by Morena Gumanit, 48, a village councilor and immediately proceed to the village.
There, they found the mammal lying dead along the shore.
The dolphin, which has a length of 197 centimeters and 107 centimeters in girth, was brought to the Municipal Agriculture Office (MAO) and was buried immediately.
(ROBERT DEJON)