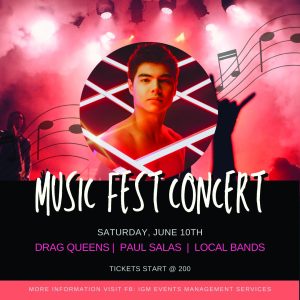 In preparation to the upcoming Grand Fashion Show Music Fest Concert, the IGM Events Management Services have invited Paul Andre Salas of Sparkle GMA 7 Artist Center, as the VIP guest performer on the 10th of June this year, featuring different local artists, performers, models, and vloggers, as to mainly showcase the homegrown talents in the province of Leyte.
Jacob Brazil, the Special Assistant to the Chief Operating Officer at IGM, strongly encourages the public to give this event a try, as his team intended to raise the same standard of fun from the national artists' usually commended performances, whilst presenting the local artists as well on the stage of the Tacloban City Astrodome.
"Try to experience and witness the performances of these local artists. And if they would not allow themselves to participate on these kinds of events, then how will they know that it is worth it? And how would they be able to see for themselves that indeed there are so many talented people as well in our very own province?" he said.
Brazil also confirmed that in order to make the concert more special, IGM is also planning to conduct a Pride March as well in prior to the concert, mainly for the celebration of the LGBTQIA+ members' inclusivity within the city.
To start with, there will be a short session of free face painting of rainbow colors, and a giveaway of pride flaglets by morning of June 10 at the RTR Plaza, followed by the Pride Parade which will commence on 1:00 P.M, then proceeding to a short seminar of equality talk as well by 3:30 P.M. at the Gaisano Capital Real. Lastly, the concert will start off at 6:00 P.M.
"This Pride March will actually serve as the prelude to the main event. This is to be participated by the local drag queens as well. Hopefully, the Pride March will be able to get its justice in celebrating the Pride Month, which is to fully create a safe space for the LGBTQIA+ members," he added.
In also extending gratitude to the people behind the preparations, Brazil openly acknowledges the student-interns from Leyte Normal University (LNU) and Eastern Samar State University (ESSU) – Can-avid, for their diversion of ideas that have helped improve the process in strategizing the different events.
Ticket prices for the Grand Fashion Show Music Fest Concert range from P 200 for the General Admission, P 300 for the Semi-VIP, and P500 for the VIP. They can be purchased at the IGM office located at the 3rd floor of the Tacloban Chronicles Building, Barangay 76, Fatima Village. (PR)