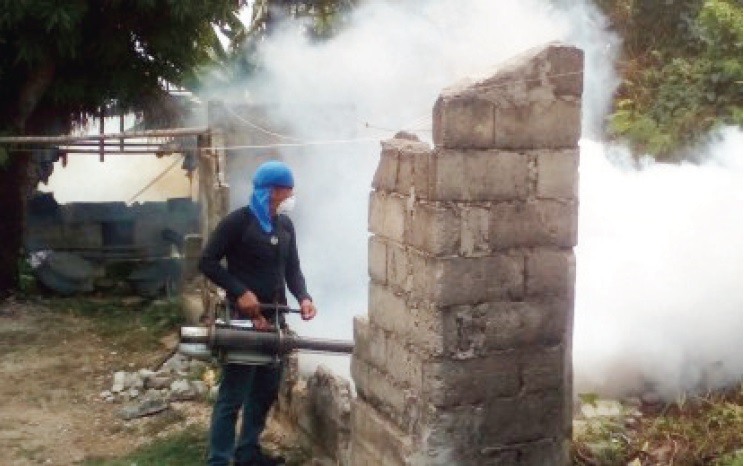 With already 23 deaths
BY: PNA and JOEY A. GABIETA
TACLOBAN CITY- Dengue fever cases in the region continue to balloon with the regional office of the Department of Health(DOH) reporting of 23 deaths out of the 5,577 cases as of July 16.
The fatalities were from Tacloban City with five deaths; Guiuan town, Eastern Samar with four deaths; and one each from the following areas: Quinapondan, General MacArthur, and Hernani, all in Eastern Samar; Baybay City, Burauen, Babatngon, Mahaplag, Merida and Ormoc City, all in Leyte; Kawayan in Biliran; Sogod and Macrohon in Southern Leyte; and the cities in Calbayog and Catbalogan, both in Samar province.
"The increase is unusual since this is the second successive year that cases are high. Cases have been above the usual occurrence beyond the epidemic threshold since the start of the year," said DOH regional information officer John Paul Roca.
He, however, clarified that there is no dengue outbreak in Eastern Visayas, but the region has been included in the national dengue alert as clustering of cases has been reported in 105 villages, according to Roca.
"We already asked village officials in areas with clustered cases to conduct assembly and regular clean-up drive to fight dengue," he told the Philippine News Agency.
The health department asked city and town mayors to organize clean-up campaigns focusing on the destruction of mosquito breeding places in their areas, and conduct community assembly in areas with dengue cases.
Here in Tacloban City, since the start of the year until July 13, its city health office reported of 407 cases with five deaths, the latest was a six-year old girl who died on July 12.
Dr. Jaime Opinion, city health officer, said that the current cases of dengue fever is more than double compared to last year of the same period.
Last year, there were only about 200 cases with two deaths.
Thus, he said, they have intensified their campaign to clean breeding areas of mosquitoes that causes dengue and daily fogging operations, especially in the villages where there are clustering of cases or there are two dengue fever cases within 200 radius.
Opinion said that they are planning to procure three more fogging machines to add its current two machines to ensure that all of the city's 128 villages could be cleared of the dengue fever causing mosquitos.
He advised the parents to have immediate consultation if their children are experiencing fever to avoid getting the ailment.
"Don't self-medicate. Seek immediate consultation even only on first day of fever, any fever, for dengue examination," Opinion said.
He also encouraged the community to practice the "4S": search and destroy mosquito breeding places; seek early consultation; self-protection and support fogging or spraying in hot spot areas.