ORMOC CITY-A sea turtle was found dead along the shore of Barangay Del Norte of Lapinig, Northern Samar.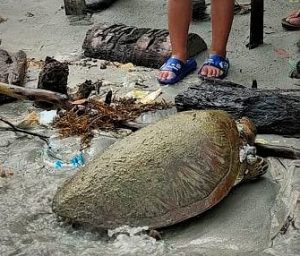 The dead turtle was identified to be a green sea turtle of about 35 kilograms and was already in the state of decomposition when found by some municipal government workers at the shoreline of Sabang Beach on April 25, says Police Staff Sergeant Cleo Juliata.
Sgt. Juliata described the dead turtle as in an advanced state of decomposition which also shows the presence of protruding parasites in the neck and butt.
He suspects that the presence of the parasites in the body of the turtle was the cause of its death.
(ROBERT DEJON)