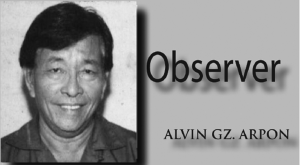 Current government officials and employees should make serious introspection on how they can effectively shield themselves from the desire of a perceived happy or fruitful contented life amassing material wealth via graft and corruption.
The warning of "crime doesn't pay" has universally been in the minds and consciousness of people since the beginning of time, after the fall of Adam and Eve in the Garden of Eden, a long – long time ago.
-oOo-
The successful recovery of the Marcos ill-gotten wealth amassed during his 20-year dictatorship is a perfect example and reminder how graft and corruption can be discovered after all, no matter how "effectively" the Marcoses hid them in foreign banks yet. Marcos is an intelligent man, a bar topnotch and was a very effective national leader for 2 terms of 8 years in the presidency until….!
Recently the Presidential Commission on Good Government (PCGG) established by former President Corazon Aquino, mother of incumbent President Noynoy to recover the Marcos – stolen wealth, has recently recovered $29 million (about P1.3 billion) of the multi-million-dollar Swiss Bank deposits stashed by President Marcos during his 20-year rule.
PCGG Chair Andres Bautista says that there is still a lot of work that can be done in respect to pursuing these ill-gotten wealth. "We should not allow ill-gotten wealth…to go unpunished". Indeed right!!
-oOo-
We thought however that graft and corruption of this massive nature under that Ferdinand – Imelda conjugal dictatorship was the last unhappy episode in the life of the Philippine nation. Unfortunately after Cory, the same cancer resurfaced, to include the much celebrated popularly elected President Erap Estrada being ousted and now is the most talked-about billion-peso PDAF fund scam amounting to P10 billion of legislators that got exposed on graft and corruption.
We are however upbeat that the perpetrators will be punished, with the revelation of whistle-blowers and that of Ruby Tuason who was an active participant of the group has revealed convincingly, how this was engineered by businesswoman Janet Lim-Napoles. She bravely exposed Senator Jinggoy Estrada and the chief of staff of Senator Juan Ponce Enrile as beneficiaries of this shameless scam.
-oOo-
A $64 question that now occupies the Filipino taxpayers mind is:
Will it take another 28 years to hand down the verdict – of this shameless scam allegedly perpetrated by lawmakers? And become another Marcos experience?
If it takes this same length of time to decide on them then crime does pay after all, like it did to Imelda, who is now a congresswoman, Ferdinand "Bongbong" a senator, Imee, governor of the province. Huhummm!