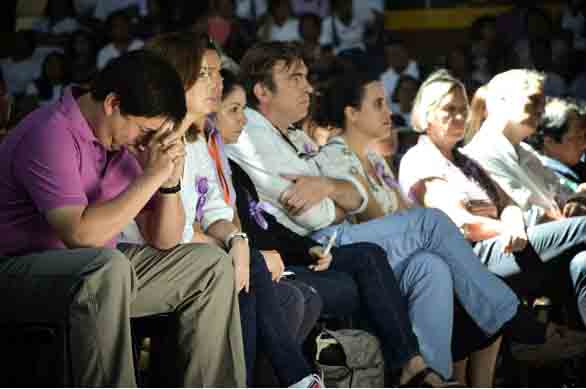 TACLOBAN CITY- A commemorative program was held at the Tacloban Convention Center on February 16, marking the 100 days after this city was pummeled by supertyphoon Yolanda.
The program, which included a Holy Mass and candle lighting, was attended by city officials led by Mayor Alfred Romualdez, wife Councilor Cristina G. Romualdez, barangay officials and various representatives of international aid groups that extended their assistance to Yolanda-ravaged Tacloban.
Evacuees now taking temporary shelter at the Tacloban Convention Center or astrodome also attended the gathering.
Present during the gathering either wore a shirt and gown and a ribbon in purple, the color of mourning, signifying sympathy for those families who lost their love ones.
In His homily, Father Amadeo Alvero, who officiated the Holy Mass, said we should continue to pray for the souls of our dearly departed as he encouraged the faithful to become helpers of other people in need.
Alvero said that while the massive disaster that hit Tacloban happened three months ago, "it seems that it just happened yesterday."
"But we should always remember that there is a better and brighter future," he said in his homily.
Mayor Romualdez, on the other hand, expressed his gratitude to the assistance extended by the international community to Tacloban and its people.
"And to those who are still around trying to find solutions to all the problems. Thank you very much," the mayor said.
He also debunked allegations that the city government and its residents were not prepared for the typhoon.
"We are the most ready as we're able to withstand the full fury of Yolanda," he said.
Councilor Cristina Romualdez, who led in the singing of "Shout to the Lord," the same song she sang while she was hanging for her dear life during the typhoon.
Casper Engbong of the United Nations Office for Coordination for Humanitarian Affairs gave credit to the resiliency of the people why its recovery from devastation appeared to be fast.
Engbong also said that the international community would continue their help to Tacloban and other typhoon-hit areas until their full recovery.
A candle lighting served as the ending of the program at the astrodome.
By: GAY B.GASPAY