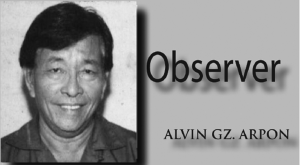 What was planned to be just a conjugal visit to a wife in Indiana, who has been on vacation for some time now, Sangguniang Bayan Member Dan Antonio Tentativa of Isabel got acquainted with and had intelligent interactions with members of "Sponsor Philippines". This organization was newly created by Filipinos living in Indiana whose objective is to seek donations from philanthropic Indiana residents for varied relief goods for victims of super typhoon "Yolanda" that hit Eastern Visayas.
Tentativa was able to bring with him substantial packs of relief goods like canned goods, medical supplies, a lot of used clothing and many more. Upon his return from Indiana, USA he immediately went to Atipolo, Isabel Monday April 21, 2014 and distributed these goods to the badly hit families of the barangay. Some 150 households were lucky beneficiaries, and when asked why Atipolo was chosen as beneficiaries the good councilor says that this barangay has a lot of indigents.
JAHs Army, another civic organization organized in Tacloban with the same mission to help Yolanda victims also got a share of these relief goods JAHs Army was organized by Jason Tentativa, son of the councilor. He gave these typhoon aid to indigents of Basey, Samar.
It's a father and son team-whose hearts bleed for the poor. Jason is a nurse who is still looking for a job and while at it he devotes his time in humanitarian mission. JAHs Army has already served Tacloban and other chosen towns of Leyte, all victims of the super –typhoon Yolanda.
-oOo-
Like what this column said several issues ago, Mayor Matin Petilla of Palo never tires and continues to be so to make a leadership difference in gthe local government of Palo.
The new municipal building that was partially destroyed by Yolanda is restored.
Recently she has made some improvements to Ginhangdan hill, a tourist area of Palo. She has initiated the planting of flowing trees along the slopes upstairs where a religious relic is built for adoration from catholic believers. . It is also being developed unto a picnic area. It has a viewing deck where one can enjoy savoring the beautiful scenery of Palo – a tourist haven.
Pretty soon we shall be seeing what she initially calls Palo Green Park with a renovated basketball and tennis courts. Along the sides will be food parks and a Tindahan Ha Barangay to sell basic commodities needed in barangay homes.
So many development projects are now sprouting in Palo that it has become quite hard to monitor them regularly.
In spite of her outstanding achievements for greater and more substantial performance as its town's executive compared to former administrations, she is still being criticized NOT by tue-blue Paloanons, but from a very small group of broadcasters of the well-funded political opposition. Unfortunately for them nobody among well-meaning Paloanons believe them. Rightly so!!