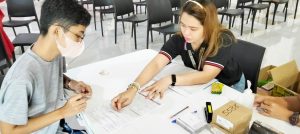 TACLOBAN CITY– Despite of a low number of registrants, the Commission on Elections(Comelec) in Eastern Visayas declared as successful the two-day kick-off of its 'register anywhere project(RAP)' that ended on Sunday (Dec. 19).
It was learned that only 10 individuals have availed of the RAP held at the Robinsons Mall here in the city, one of the pilot areas of the Comelec program.
Aside from Tacloban City, the program was also piloted in National Capital Region and Bicol Region.
Lawyer Jose Nick Mendros, the regional director of the Comelec-8, said that they are happy with the turnout of the program which he said is a new program being offered to the voters by the poll body.
"We did not set any (prospective) number of people for this two-day pilot testing. But we can still say that the response is good despite the fact that this is just a new program of the Comelec," he said.
According to Mendros, the program was conceptualized by the Comelec to encourage prospective voters to register at hassle-free, especially for those who are working during their regular listing up period.
"You can register under the program though you are actually a resident outside the city," he said.
The documents and biometrics taken from these registrants are then forwarded and endorsed to the concerned Comelec office where they actually reside, Mendros said.
He added that like the regular voters' applications, those who availed of the RAP will have their applications subjected to election registration board (ERB) hearings.
The same program will resume on January, next year.
The listing up will be used for the barangay and Sangguniang Kabataan elections scheduled on October 30, 2023.
At present, Eastern Visayas has 3.25 million registered voters of which 1.3 million of them are under the SK voting population.
(JOEY A. GABIETA)