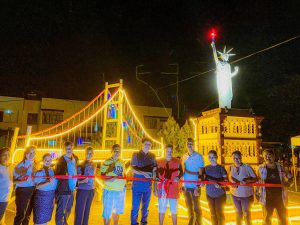 TACLOBAN CITY – A small town in Eastern Samar has put up replicas of some of the world's famous landmarks adorned with Christmas lights and decors.
Dubbed as 'Sulat Festival of Lights around the world' the municipal government of Sulat has identified major tourist spots from 18 countries put up in the town's 18 villages.
The replicas are made from recyclable materials lighted with beautiful Christmas lights.
Landmark replicas includes the Golden Gate Bridge and Statue of Liberty, both in the USA; Eiffel Tower, in Paris, France; London Tower Bridge in London, England; CN Tower of Toronto, Canada; Torii Gate and Cherry Blossoms, both in Japan; Golden Hall of Ganesha, Chiang Rai in Thailand; Marina Bay Sands in Singapore; Traditional Korean Temple of South Korea; Pyramids of Giza in Egypt; and Burj Al Arab in Dubai.
Also displayed are the Statue of Jesus Christ in Rio De Janeiro, Brazil; the Great Wall of China in China; St. Basil's Cathedral in Moscow, Russia; Bahay Kubo, Philippines; Leaning Tower of Pisa, Italy; Sydney Opera House in Sydney, Australia; Petronas Twin Tower in Malaysia; and Taj Mahal of India.
A description of each landmark are placed next to the replica.
The festival of lights around the world is open from 6 pm to 10 pm.
Mayor Javier Zacate shares that they have two judging schedule.
The top winning landmark replica will win P500, 000 worth of barangay project. Winners are to be announced either on Christmas Day or New Year's Eve. (ROEL T. AMAZONA)