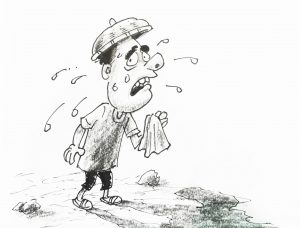 The Philippine Atmospheric, Geophysical and Astronomical Services Administration (PAGASA) has officially declared the start of the warm, dry season on March 21 with the termination of the northeast monsoon, signaling the beginning of what is commonly referred to as the summer season in our country. This dry season that brings warmer temperatures is expected to last until May, a period that we should prepare for.
As of this writing, various parts of the country have already experienced sizzling heat. Last Friday, for instance, PAGASA recorded a heat index of 47 degrees Celsius in Butuan City, Agusan del Norte. And that is alarmingly hot. This was a degree higher than the 46-degree Celsius heat index recorded in San Jose town, Occidental Mindoro last March 17. Also with the highest heat index from March 1 to March 25 are Maasin, Southern Leyte (43 oC on March 25); Dauis, Bohol (43oC on March 24); and Roxas City, Capiz (43 oC also on March 24).
Heat index measures how hot it feels outside when humidity and other factors are considered along with the temperature. For Saturday's figures, PAGASA recorded the highest heat index in Davao City and Masbate City, both registering at 42 oC. The town of Borongan in Eastern Samar and Dagupan City in Pangasinan followed with 41 oC. Based on the forecast, General Santos could reach 43 oC on March 29, and 42 oC for Butuan on March 30.
What do all these imply? This means that heat stroke is probable, with continued exposure to heat index ranging from 42 to 52 oC. The public, then, should limit the time spent outdoors for less important reasons. People are also advised to drink plenty of water or maybe fruit juices to hydrate their bodies. They are to avoid tea, coffee, soda, and liquor.
They are also urged to schedule heavy-duty activities to avoid heat-related illnesses.
With these precautions, we hope to warn the public to brace for upcoming hot temperatures that are injurious to health. If we cannot avoid the heat, at least we should have some things to combat it.