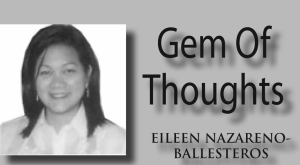 Early this week, news flashed on screen, multi-awarded matinee idol Coco Martin (Rodel Nacianceno in real life) made a public apology in a press conference attended by Philippine Commission on Women and women's rights groups such as the Gabriela party-list group. Over a week after he faced serious flaks, he went into the open to say sorry for his "act" in the fashion show of a leading apparel company in the country. Sexist groups claimed his walk on the ramp holding a rope tied all-over a blondie who projected on stage like an uncivilized human, was an affront to the dignity of any woman.
Whether his gesture of apology was his own volition or upon advice of his handlers and talent manager, and an after-thought following the ceaseless criticism against his indifference to women's, his asking for forgiveness was accepted by the erstwhile exasperated women's rights advocates. On top of it, he vowed to help in the drive against the varied violence done on women. With that, he made a reverse move regaining the credence as respecter of women's important role in the society.
Knowing a bit of his real life background as one who is not bully on women, asking for apology in public could really be easy does it for Coco. To this we add the fact that he has a "tradename" to protect in the showbiz industry. Nevertheless, he did it. This made him a matinee idol once more.Could other male celebrities be like him? Could those male movie stars who got entangled in the web of court cases and controversies for violation of the anti-VAWC Law (RA 9262) be as humble and brave like Coco in admitting own fault and asking for forgiveness from the offended party? What about the non-celebs? Will they, too, do a Coco and be really sorry for causing pain to the woman? If only all abusive men are like him, family courts will be partly decongested and there will be less dysfunctional families and broken home to bloat the statistics. This humble stride boils down to one common bottomline – values and firm moral fiber that is built from childhood and develops over time.