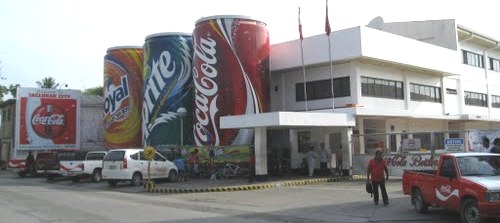 TACLOBAN CITY- The Coca Cola plant, based this city, is now back to operations. And their decision to resume operations in the region is a strong testament of their commitment to help revive the economy of Eastern Visayas still reeling from the aftermath of supertyphoon Yolanda, said its officials.
The plant, which sustained severe damages due to the storm surges generated by Yolanda, had its reopening on September 10 attended by its top officials led by chief executive officer Juan Ramon Felix and Juan Dominguez, human resources and corporate director. For city officials, the resumption of operations of the world's leading soft drink in Tacloban would not only mean generation of employment but also as big source of revenue. Felix said that their decision to return to full operations would mean exactly as mentioned by the local officials.
He said that with their operations, they would help "restore the (local) economy again." Coca-Cola FEMSA Tacloban is the regional hub of the soft drinks company which employs around 200 workers and is one of the top ten taxpayers of Tacloban. The plant sustained damages valued at $15 million (or over P640 million).
Dominguez said that despite of the huge loss and the destructions they suffered during the onslaught of Yolanda, they chose to resume their operations and rebuild their plant to show their gratitude to the people of Eastern Visayas, described by him as one of their biggest markets in the country. He said that of the more than 20 million daily production of Coca-Cola, around five million cases of soft drinks are consumed by their loyal customers in the region. "Leyte, Samar is one of our strongholds," he said.
Marlon Ventulan, human resource officer of the Coca-Cola Tacloban, said that with their resumption, the soft drinks needs of the region could now be at least stabilized. It was disclosed by Ventulan that of the estimated 100,000 cases a day consumption of the region, they get supply from Cebu, Cagayan and Manila. He, however, admitted that they could not still meet the daily need as they could only produce 6,000 to 10,000 cases as they are only using one line. Leyte Governor Leopoldo Dominico Petilla, Tacloban Vice Mayor Jerry "Sambo" Yaokasin and Bernardita "Bering" Valenzuela, spokesperson of Mayor Alfred Romualdez, expressed their gratitude to the soft drinks officials for resuming their operations. (JOEY A. GABIETA)