10 confirmed cases; 80 suspected cases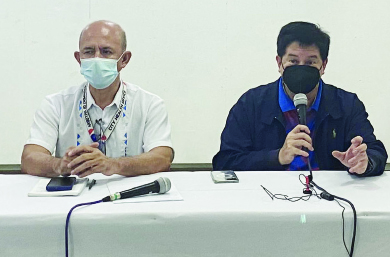 TACLOBAN CITY-The health officer of this city has declared an outbreak of cholera on Thursday (Oct. 27) with 10 confirmed cases.
Dr. Danilo Ecarma said that with the declaration, measures are to be put into place to prevent further rise of the water-borne disease.
"Right now, we are declaring a cholera outbreak here in Tacloban City. An outbreak of cholera can be declared even with only a single case. Now, we have 10 confirmed cholera cases," the city health officer said during a press conference on Thursday.
It was learned that all 10 cases of cholera are residing in the resettlement areas northern part of the city.
Of the 10 cholera cases, eight are from Barangay 106(Sto. Niño) and one each from the villages of 105(Suhi) and 93 (Bagacay).
All are adults except from Brgy. 93 who involved a 14-year old boy.
At least 80 others are still considered by health authorities to be 'suspected cholera' with the results to be known within this week.
The City Health Office (CHO) has earlier reported of a sudden rise of diarrhea cases in several barangays in the city, mostly in its northern part.
The first cases of diarrhea were reported on October 23 with 34 patients admitted at the Eastern Visayas Medical Center (EVMC) and 10 at Tacloban City Hospital.
As of Wednesday, the CHO has reported of 192 confirmed diarrhea cases wherein based on samples tested, 10 were confirmed to be cholera cases and 80 suspected to be cholera.
Four individuals have already died due to water-borne disease, two of them involved a 12-year old boy from Brgy.106 and a three-month old boy from Brgy. 91.
The two others were from Brgy.79 involving a 71-year old man and a 64-year old woman.
All patients experienced vomiting, dehydration, profuse watery diarrhea, thirst, and fast beating of hearts, especially the older.
Ecarma said that based on their initial investigation, the cause of the cholera outbreak is due to water sourced from a private refilling station which services the more than 17,000 populace in the northern part of the city.
The said utility, which gets its water from a creek and deep wells, has been ordered closed by City Mayor Alfred Romualdez.
The northern part of the city, where the families whose houses were totally destroyed during the onslaught of Super Typhoon 'Yolanda' in 2013 were resettled, has no water connection from the PrimeWater, the main water utility that provides water to the main area of the city.
The Department of Health has provided assistance to the city government like giving Oresol, IV fluids, and medicines to be distributed to the affected areas.
Dr. Rodolfo Antonio Albornoz, DOH assistant regional director, also urged the residents in the northern part to always boil their drinking water and practice proper hand washing, especially after using the toilets.
The Office of Civil Defense (OCD) has also committed to provide bottled water for the residents of the affected barangays.
Meantime, Edilbrando Bernadas, the city disaster risk reduction management council, said that on order of Mayor Romualdez, all water refilling stations in the city and even those coming to the city from nearby towns are to be inspected and sampled to ensure their safety.
In Tacloban, there are 114 water refilling stations of which 56 have been sampled which turned out to be negative of E.coli virus.
JOEY A. GABIETA