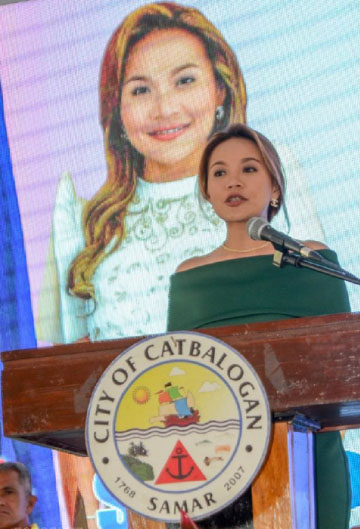 CATBALOGAN CITY- This city is pushing for change in the concept involving farming and fishing activities for its farmers and fishermen.  The concept is known as idle farmland re-consolidation for commercial farming and fish hunting to fish farming program. This plan was presented by the city government to Presidential Assistant for the Visayas Michael Lloyd Dino. City Mayor Stephany Uy-Tan also presented this concept during her 4th state of the city address (Soca) on Monday (August 1).
The farmland reconsolidation will cover around 10,500 idle agricultural land of the city into productive areas which will not only provide income to the land owner but especially to the farmers.
Mayor Uy-Tan said that the concept of land reconsolidation was first implemented during her first term as they searched for private partners who can put an investment for an industry that will turn the land into an income and job generating area. "Most of the vast lands in the city are neglected, if not idle. That is why it's about time that we consolidate them for better investment which I strongly urge be done through public-private partnership," she said.
"Through land consolidation, income will become faster and we can assure that they will earn more," she added. Moreover, the fish farming project that the city government wants to implement hopes to change concept of fishing activity from hunting to fish farming. An on-going partnership with a private organization International Council for Local Environmental Initiatives (ICLEI) is being implemented in the waters of Barangays Silanga, Cabugawan and Buri and parts of Irong-Irong Bay. The project also help in ensuring the dramatic increase or revival of marine life production but will also help ensuring better income for fishermen and reduction of travel time for catching fish.
"We need to maximize the use of our sea waters. We should not only rely on catching. That is why we implement this but we want to expand this more because our sea water can accommodate hectares of sea farming," the mayor said. Along with this program is the goal of the city government to make Catbalogan as a live fish market that will not only supply seafoods in markets not only in the country but even in international market. (ROEL T. AMAZONA)