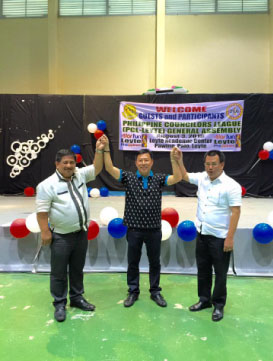 PALO, LEYTE – Palo municipal councilor Wilson Uy was reelected as the Philippine Councilors League-Leyte Chapter President in an election held Wednesday, July 3 at the Leyte Academic Center in Palo town. Second termer Alang-alang town councilor Edwin Jomadiao, who only got 44 votes challenged Uy, who got the winning 279 votes during the league's polls. Leyte has 370 councilor members including ex-officio members who are presidents of Association of Barangay Chairman (ABC). Uy expressed his gratitude to fellow council members who placed him as the league president for the third consecutive term. For this term, Uy said that he, along with fellow councilors will continue to push their advocacy for the Government Service Insurance System (GSIS) to allow councilors to continue their contribution even after serving their third term.
"We are pushing that we be allowed to continue paying for our GSIS contribution so we can avail retirement benefits," said Uy.
The current regulation of the GSIS allows members to receive retirement benefit after paying contribution for 15 years. Elected councilors can serve the government for nine years, under a three consecutive term "The contribution that we pay at GSIS is from our salary as government officials. That is why we are pushing for the government if it needs a law or a resolution from the GSIS that we be allowed to continue paying our contribution at GSIS after serving our terms so we can avail the retirement benefits." he added. Councilors receive salaries which range from P30,000 to P50,000. An advocacy group of the PCL had been talking with GSIS officials to study the proposal, Uy said. He added that for this term he will also push for the creation of the PCL-Leyte Chapter constitution and by-laws that will allow them to implement and fund their own projects.
Funding of projects that PCL-Leyte implement comes from the 30% share that they receive from the national chapter. PCL-Leyte Chapter now has a new set of officials for 2016-2019 which includesCouncilor Edwin Faller of Hilongos as vice-president. Faller is formerly ABC Federation President for Leyte province and sat as ex-officio member of the Leyte Provincial Board.  Other league officials elected were RindoLagonoy (Sta. Fe) as secretary, Jul Co (La Paz) astreasurer, Bert Bregaudit (Palompon) as auditor, Erwin Belleza (Abuyog) as PRO, and, David Alcover (Burauen) as business manager. Board of Directors include Councilors Manny Martinez, Bianito Fiel, Othello Crisostomo, Janice Estribella, JT Villarino, Deborah Bertulfo, Arnold Allera and Nicanor Gondaya.
(ROEL T. AMAZONA)