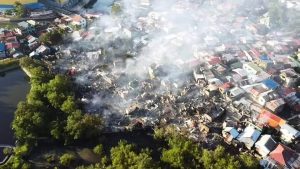 TACLOBAN CITY– An almost four-hour fire incident hit two depressed areas in Calbayog City, Samar on Tuesday(April 18) early morning that gutted down more than 100 houses.
City fire marshal S/Inspector Victor Ygbuhay said that the fire incident broke out in Barangay Carmen and hit part of its adjacent village of Obrero at about 2:47 am.
He said that they have yet to determine what caused the fire incident that reached up to the third alarm with nearby fire stations of Gandara, San Jorge, and Santa Margarita, all in Samar, helping put the fire out at about 6 am.
"The houses were located almost close to each other and the pathways were narrow reason our firemen had a hard time putting the fire out," Ygbuhay said in a phone interview Tuesday.
"And at that time, it was windy which also resulted for the fire to spread immediately and even affecting some houses in Obrero," the fire marshal added.
Ygbuhay also said that while the incident happened early morning with the affected residents were still sleeping, there was no report of injury or casualty at the said conflagration, said to be the biggest fire incident in Calbayog in decades.
Based on their initial assessment, the fire incident burned down 100 houses in Carmen and 20 houses in the nearby village of Obrero. Most of these houses are made of light materials.
The fire office of Calbayog has yet to determine as to how many families or persons were displaced due to the blaze that resulted in P3 million in damages.
Carmen and Obrero are among the biggest villages in Calbayog City in terms of population with combined residents of more than 7,000.
Meantime, City Mayor Raymund Uy assured all the fire victims of assistance from the city government.
He also said that the fire victims are temporarily housed at the city's sports center and were provided with food packs by the city government.
Mayor Uy also called city residents and even nongovernment organizations to also extend assistance to the fire victims.(JOEY A. GABIETA)