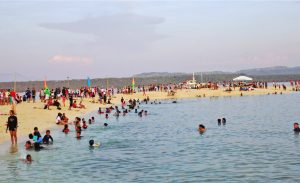 TACLOBAN CITY – The local government unit of Naval is reviving the Higatangan Island Summer Festival after three years of hiatus.
Higatangan Island Summer Festival is an annual event organized by the LGU to encourage tourists to visit the island known for its shifting sandbars.
This annual event was first organized by Governor Gerard Espina when he was still the mayor of Naval.
With travel restrictions now loosen up, Mayor Gretchen Espina, the younger sister of the governor, decided to revive it.
"For this year's Higatangan Festival, we will be promoting other parts of the island and not just the sandbar," Mayor Espina said.
Activities for the festival, which is slated on April 29 to 30, include basketball and beach volleyball tournaments, bikini open, treasure hunting contest, tattoo competition, mountain bike competition, bangkarera, and island banchetto.
Mayor Espina added that they will also have a fireworks display sponsored by Rep.Gerardo 'Gerryboy' Espina.
This early, Espina has appealed to visitors who will be visiting Higatangan Island to be responsible by making sure that they will not throw their garbage anywhere.
"I learned that the last time we had the festival, it took the tourism office five trips of motorbanca to gather garbage from the island to the mainland," Mayor Espina disclosed.
"I hope this year, this will not be the case. We will be providing garbage bags to every visitor which they will use for collecting their own trash and they need to bring this back to the mainland," she added.
(ROEL T. AMAZONA)