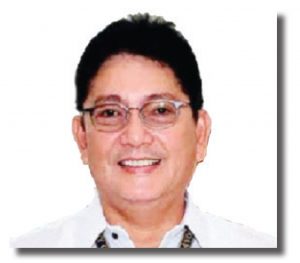 By: Jennifer D. Sumagang-Allegado
CALBAYOG CITY- Mayor Ronaldo Aquino of this city is to deliver his State of the City Address (Soca) on Monday (Oct. 8) as he will report to his people what his administration has achieved and what he intends to accomplish.
Aquino, who is serving his second term as mayor of this city, is expected to deliver an hour-long Soca to be held at the Calbayog Sports Center at about 8 in the morning.
Aquino's delivery of his Soca coincides with the celebration of the city's 70th founding anniversary on October 16.
Expected to be given focus by Mayor Aquino on his Soca is his campaign to attract more investors to the city as this could result to employment for the local people.
He boasted that it was under his term that shopping malls opened in the city which generated not only additional income to the city government but more so, employment to its people.
Super Metro and Grand Gaisano have opened their businesses in Calbayog hiring in the process thousands of local workers.
Mayor Aquino, in an interview days before he delivers his Soca this Monday, said that the number of investors in Calbayog is expected to increase as many investors have signified their intention to put up their businesses in the city, considered Samar's gateway.
Seacat, a fast craft will soon operate in the city which will ply the Cebu-Calbayog route.
Mayor Aquino added that Glacier storage facility will also operate in the city as he disclosed that another investor is also interested to put up a storage business in Calbayog.
"We need this kind of business as this will be a big help especially to our fishermen," Aquino said.
The city mayor also said that he would also further develop the city's tourism attractions by improving road access leading to these sites.
With an improved tourism road access, it would now be easy for tourists to visit these sites, the city mayor added.
"How can we attract potential tourists if we don't have facilities; if we will not develop our tourism sites?" Aquino said.
In particular, he cited the ongoing development works of roads and facilities in Malajog Beach, Tarangnan Falls and Bangon Falls.
Records of the City Tourism Office has shown a remarkable increase of tourists visiting the city for the past months.
Last year, about 115,995 tourists arrived in Calbayog of which 109,242 were local tourists with the 6,753 were foreigners.
And for the first semester of this year, at least 72,351 guests, both local and foreigners, visited the city, providing additional income to the city's tourism-related establishments.
The city mayor added that with the redevelopment of the Calbayog City Airport, more tourists and investors are to be expected to come to the city as it would now be easy for them to travel to Calbayog City, now considered among the country's fast growing cities.
"If given the chance to serve the city again, I will continue all the projects and programs that the city deserves, to attract more tourists and investors to come and do business in Calbayog," Aquino, who is serving on his second term, said.
Aquino also bared that once completed, the P200 million development of the Aquit-itan Development Project will be an additional attraction of the city for investors as it was designed as the city's new commercial area.
With this project, a resettlement site, located in Barangay Basud, will be developed to relocate the 71 families who will affected by the project.
A new government center will also be constructed in Brgy. Bagacay where presently a terminal and a public market are located.
Mayor Aquino also said that cacao production will also be improved considering its increasing demand in the market.
"Cacao is very demanding, as of now, we have at least 200 hectares of land cultivated for cacao, and we are thankful to Calbayognons for the response and support to the program," he said.
Aquino likewise shared that the city fully supports the commercial fishing ban being implemented in the Samar Sea.
"The alliance created with other LGUs surrounding the Samar Sea was cited in the national level, and we will continue to protect the Samar Sea," the city mayor said.
His administration is also giving focus in the education sector by addressing its needs, Mayor Aquino said.
For one, his administration has initiated a project dubbed as Project Shuttle All Kids and Youngsters Needing Assistance (SAKAY NA) which is now operating for almost 12 years and has contributed to high enrolment rate of the Department of Education Calbayog City Division.
The city government hired buses to transport students from their barangays to the nearest school where they attend classes.
Aside from that, the city government continue in supporting the sports program of the division.
Just this year, Calbayog City successfully hosted the Eastern Visayas Regional Athletic Association (EVRAA) Meet.
"We fully support the needs of our schools. We allocated P5,000 for each school, elementary and high school, as a support to the Brigada Eskwela that is every year," the city mayor said.
He was happy to share that under his administration a lot of integrated schools have been created.
Meantime, city planning and development officer Reo Marquez, in a separate interview, said that the present administration of Mayor Aquino has followed the programs and projects that were identified in the master plan made by former city mayor Mel Senen Sarmiento.
"The projects that were implemented by Mayor Aquino was same as those in the master plan prepared during the administration of then Mayor Mel Sarmiento and we just conceptualized a program for the implementation under his administration," Marquez said.
The administration's focus, he said, would be Responsive Programs for Advancement: Projects for Urban Renewal and Expansion for Calbayog Now and Onward.
Marquez said that Mayor Aquino will focus on urban renewal which include road opening, making it accessible for people coming from remote villages reach the city center.